Ukulelia – April: Ukulele Names & Finger Rolls
This entry was posted on April 24, 2015 by adminuku.
Welcome home to planet Ukulelia, uke fanatics! Whether you're just starting your ukulele quest or are an old hand with everybody's favourite instrument, we've collected a great big pile of ukulele goodness for you to get stuck into this week.
From the difficult art of naming your ukulele , to how to perfect a finger roll, we've collected some the best, most brilliant and every so slightly batty ukulele blogs from across the web this April.
What's in a name?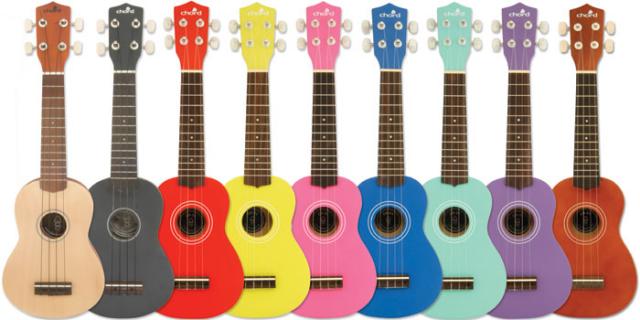 If UKEonomics isn't on your bookmarks bar yet, it absolutely should be. Crammed with tabs, tips, tools and interviews, there's great stuff here for ukulele players of all levels and musical tastes. This month, however, we're sharing one of blogger Miles' shorter and more offbeat posts which caught our attention – all about the naming of ukuleles.
Just as you'd name a car or a ship, UKEonomics' Miles names his ukuleles. Not so weird, you might think, until he reveals that his 1950s Favilla Soprano is called Flava Flav, while his Lanikai LU-21 Concert is called Lenny.
Anyway, all this weirdness got us thinking, how many of you name your ukes? Share your ukes' names or send us a snap @SUS_UKES.
In praise of plastic
Retro pin up Betty Page may make any instrument look good, but Mr John Bianchi of the stupendous Ukaholic blog is particularly interested in the plastic  ukulele  Ms Page is holding. In this interesting post, John takes a closer look at the humble plastic uke.

Much maligned by many purists, but held in great affection by many others, they may be cheap, but these little plastic moulded beauties have become classics in their own right. Read on to learn more. Or check out Lil' Rev in action below...
 How to (rock and) roll stroke


Keen to add a new trick to your ukulele repertoire? The talented Lil' Rev of Fountains of Uke is here to show you how to master all manner of roll strokes; from the basic four fingered roll, to more complex five fingered versions and even some Flamenco-esque action too!
 Baroqulele!
For those of you with more classical tastes, this  very pretty Bach Chorale from Notebook for Anna Magdalena is a charming way to end our monthly roundup, played perfectly by blogger UkeNut and taken from Tony Mizen's The Baroque Ukulele
Do you name your ukuleles? Have you mastered the finger roll yet? Share your stories and tips with other players below or by tweeting our very own uke nuts @SUS_UKES.