Interview with Aaron Keim (Quiet American)
This entry was posted on June 16, 2016 by adminuku.
The second in our series of chats between Nicci and famous Ukulele players at Grand Northern Ukulele Festival 2016.
Aaron Keim - A Brief Chat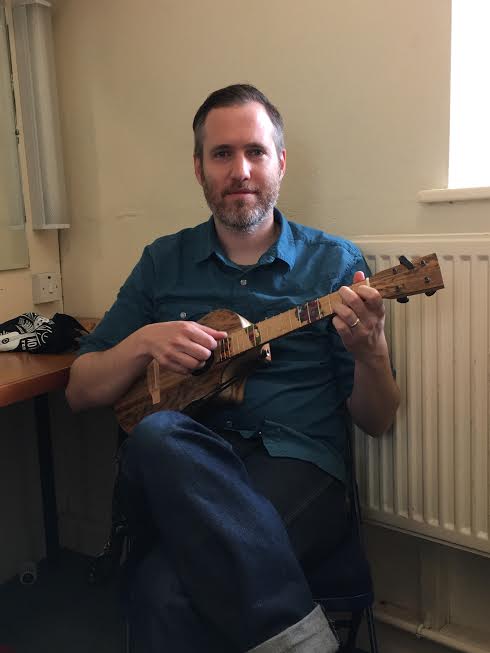 What ukulele do you perform with?
I perform with a bunch of different ukuleles, all of which, I made. So I build musical instruments for Mya-Moe- it's the name of the company. Every one you see me play is one I made. The two that we're playing this weekend are made from Myrtlewood, which is from Oregon where we live. It's a local wood you can only get there.
What ukulele pickups do you use?
We use K&K pickups for everything. So the one that's in our ukes, I think, are Twin Spot- K&K Twin Spot. All the instruments we have, from the banjos to the basses, they have K&K pickups.
Do you use a preamp or an amp and if so which one/ones?
We use LR Baggs preamps. I think it's called a Para Acoustic DI- it's the little brown box that goes on the floor. I've had that for 15 years, at least, and it's great. I love it. And I have a little tiny five watt from the 1950s that I use when I use an amp. But I don't fly with it because it would just break.
What tuning do you use?
On the baritone ukulele I use DGBE and it's a low D fourth string. And on the tenor ukulele GCEA but high G because the high G is what I need to play the clawhammer and banjo style music, it has to have a high fourth string.
Is there anything you'd recommend for anyone starting out?
They should do high G; GCEA. That's the most ukulele-y ish tuning. It's the one that sounds most like a uke. The low fourth string is best for folks who maybe come from guitar because they may already have certain things already together and it makes sense to have that low fourth string.
Wound low G or unwound low G?
Wound, for sure. I hate the unwound low Gs because they're too thick. They have to make them that thick to have the proper density to tune up to pitch but then they're kind of thumpy sounding and they only sound good a few frets up and then they start to go really thumpy. The wound low G does have a more metallic sound but it's diameter is somewhere like the other strings so it's easier to play, I think. And the pitch is truer on that thinner string than the thick string. I know that every company makes an unwound low G but I prefer not to use them.
What is your favourite song or piece of music involving the ukulele?
James Hill's newest CD is called 'Old Silo' and...I can't remember the name of the tune. I can sing but I don't know what it's called. James Hill is one of my favourite musicians and what's great about him is that he's a virtuoso performer but he writes all of his own music and it's all super high quality. There are other virtuosos who don't write their own music, they play other people's. But James can do both and that's why I think he's tops.
New Moon- it's the first track on there. That's an instrument I built. In this video he's got a big piece of black tape on the top because he cracked it. And I keep saying "James, I'll fix it. Next time you see me, I'll fix it". And he keeps forgetting, so he keeps making YouTube videos like this with a big piece of tape stuck to the top. That's good, though, I like to see them come back that way. If you make an instrument and it just sits in the closet, what's the point?
If you had up to 5000GBP to spend on any ukulele right now, what would you buy?
That doesn't count because I would spend £5000 on wood and make lots of ukuleles!
Roughly how many could you make?
I have to do my math first of all. That's like $7000 of wood and I can get enough wood to make a really great ukulele for like $400. So that's like 40 instruments. I could make one for myself and sell the rest.
Can you tell us a little bit about your signature Beansprout banjo?
I started making banjo-ukuleles first because no-one was making one new that I thought was any good. This was like 2002/3. You could buy old ones and then fix them up, which was great, but they didn't have some of the modern features I wanted them to have. And there's a banjo company near where I lived that made me a big banjo, a five string banjo, and I asked him to make a banjo-uke for me. He said "how old are you?", I said "I'm 21". He said "when I was 21 and I wanted a banjo and no-one else would make it so I made it myself. So you should make it yourself". So that's how Beansprout started. And then when I started working for Mya-Moe, it became part of Mya-Moe, and then when I go back out on my own in a few years it will still be our signature model, probably. But it's just a little banjo, technically. But it sounds great and it plays great and it's my favourite.
What are your plans for your own luthier company and can you tell us anything about the work you're doing for it at the moment?
At the moment, in the middle of 2017 I'll start making some banjo-ukes for customers with the new designs. In 2018 I'll start making regular ukes with new designs. Right now, I'm prototyping new woods, new shapes and sizes, new construction techniques, new materials, as well as trying to plan things like logos, graphic design, artwork, photography, website, database, taxes. It takes a lot. I don't actually know how many instruments I'm going to be able to make a year when I'm by myself. As a group, with all the people, we're making about 300 instruments a year. It'll be smaller when I'm on my own so I don't even know yet how much they're going to cost because there's a lot of math that needs to be done to make that happen.
What's it like performing with your wife and do you settle arguments with competitive uke playing?
No, we don't. It's great playing with Nicole but the thing I always say is people pay us to travel, because the travel is what's frustrating, annoying and difficult. The music is the easy part. So having a good teammate is necessary if you're gonna travel with each other. I've spent years in bands with guys and it's hard to find people that you can work with and live with - because you're basically living with them. So we're a good team. Mostly when we settle musical arguments, I usually win because Nicole gives up, which is an issue. We need to work on that. But when it comes to everything else, she's pretty much in charge.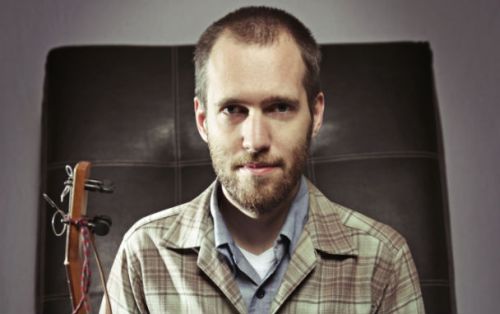 How grateful are people generally for workshops such as these?
I think that we really make our living teaching. And performing is secondary. Not because we choose that but because that's what people choose. People like the one-on-one experience of being in the room and being able to really interact and learn a little bit about what we do and also Nicole and I are trained as teachers so I think we have a little bit extra edge on our workshops as they're a little more educationally sound than other folks. So people respond to that and all our workshops are generally sold out wherever we go. If we wanted to do that all the time, travel all the time, we probably could. But we like to be home, too.
Do we need more ukulele in the charts?
Oh, I don't mind whatever. There's a lot in the charts compared to 10 years ago. But to me, I don't play the ukulele because I'm obsessed with the ukulele, I just play music and this is an instrument I love. So I'm not quite as militant as some of our friends are. I don't mind if someone plays their guitar and the ukulele. But it's nice when it pops up, so I wouldn't mind.