We are getting to that time of year where we exchange presents with loved ones. If you are here - you probably already think that the man, woman and/or child in your life would have great fun with the Ukulele. They may even already play and you are blindly wading through page after page online trying to grasp what might be an improvement on the one they already have?!?
It's a proper minefield finding the right instrument I know! Let me help... Here is a little bit of a beginners guide for those that have gotten a bit stuck in the weeds trying to make a decision.
For the adult beginner
If the recipient is coming into the Ukulele with no previous instrument experience except perhaps seeing somebody play one at the pub or when their son/daughter bring one home from school then the first thing to establish is which size may suit them. Smaller adults or men/women with smaller hands might want to look at the Soprano size (for recommendations check further down the article) but probably 8/10 beginners start on the middle size which is known as the Concert size.
The concert size seems to be the most comfortable for beginners, it's not too long that it feels like a guitar and it is not too small that your hands are going to get too tied up in knots when learning the chords. A playable Concert that actually performs and feels like a musical instrument will start at just over 60GBP and I can't stress enough how much an instrument cheaper than that is a massive waste of money... We are good at setting up Ukuleles but if the instrument is made too inexpensively, no amount of expert quality checking can make the intonation (tuning up the neck) acceptable or the Uke sound like a Ukulele.
Here are the particularly good examples of a good quality instrument to get somebody started on a budget.
Brunswick BU4C - The Brunswick is pretty plain to look at but the machine heads, finish, strings and sound are all the world better than the other instruments at this price or under. Truly, this Ukulele has been one of our best selling Ukuleles for nearly a decade and despite not being one of the better known brands to players outside of the UK; this Ukulele is the perfect place to start.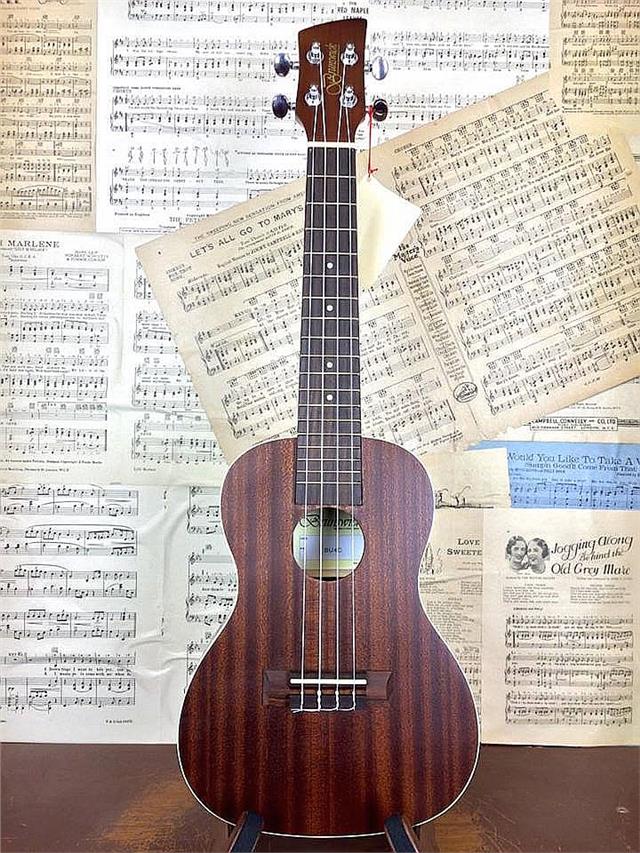 Tanglewood TWT4 - This is a new model just in time for Christmas 2018. Tanglewood have taken note of what people look for in a starter instrument and what you get here for the ridiculously good price of 79GBP is a Ukulele with a very comfortable flat profile neck, the best strings and sound for the money. Not to mention it comes in a pretty substantial case. Perfect for someone who intends to join a Ukulele group or have lessons out of the house.
Ortega - This Ukulele is less popular for adult beginners because of the flamboyant colour schemes but the Ortegas are probably the best sounding acoustic Concert Ukulele under 100GBP. The best machineheads (tuning pegs) on a beginners instrument and a real feeling of quality make it my personal favourite to show customers walking through the door even if half of them don't like the colours!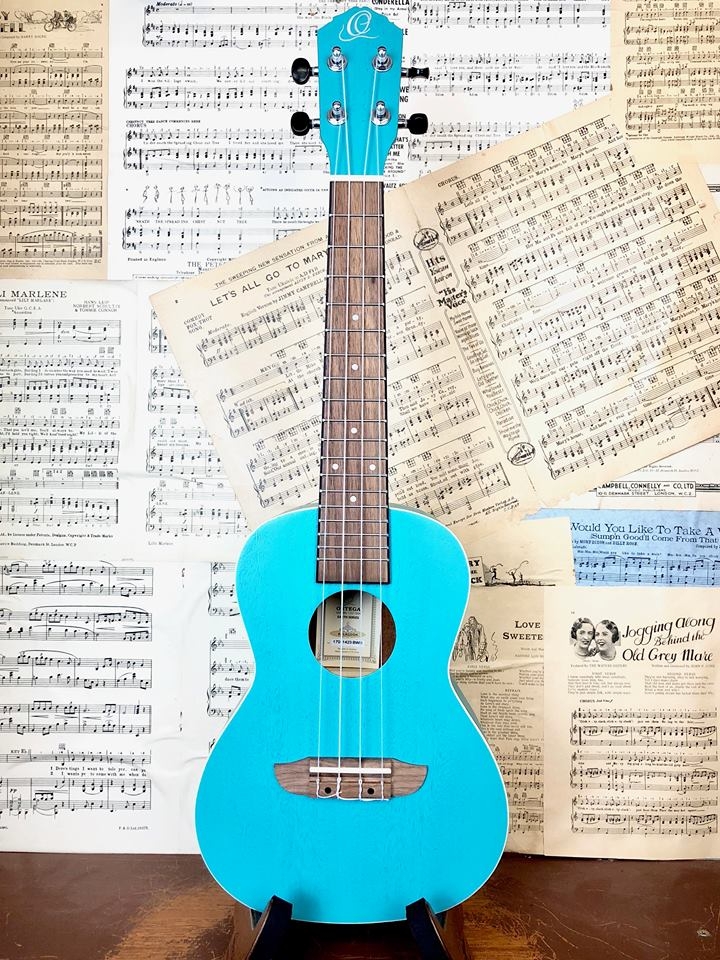 Kala KA-CG - If you have been googling away furiously for a while before reading this blog then the odds are that you have seen the name 'Kala' once or twice. This KA-CG is techinicaly not the cheapest Kala in the range but for under 100GBP the KA-CG is the next jump up in quality from the other models featured in this list. It also has a gloss finish which makes the looks of the instrument much more visibly impressive. A great gift!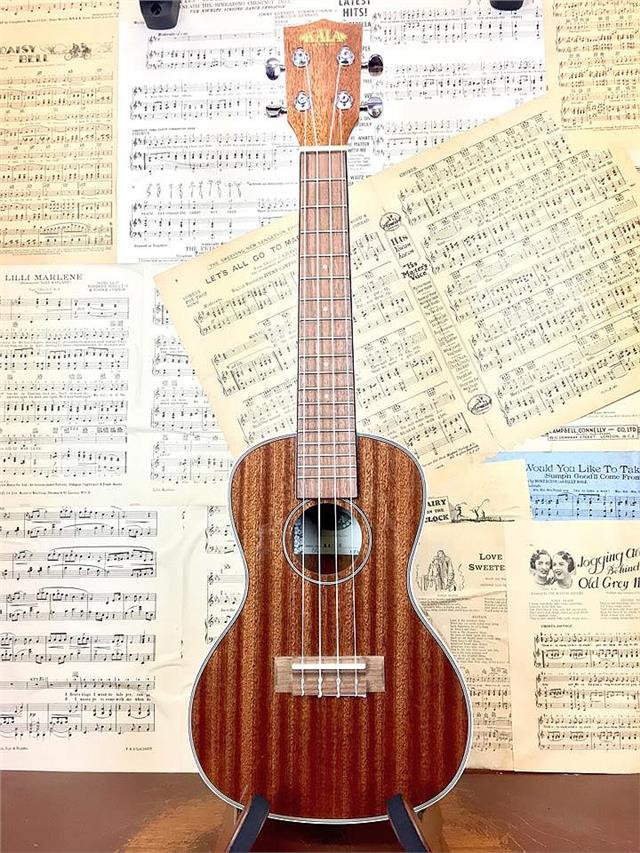 The Concert isn't necessarily the be all and end all for an adult beginner. If you have very big hands then a Tenor might be a great place for you to start. The Tenor has more space across the length of the neck to spread out your fingers and the tone of the instrument is a little bit deeper and in many case a bit richer sounding. A Tenor Ukulele would also be a great gift for a Guitarist looking at giving the Ukulele a go...
Here are a couple of great beginners Tenor Ukuleles. You can find some for about 75GBP but realistically, as I write this in late 2018 - the best Tenor's for adult beginners start at about 100GBP.
Brunswick BU4T - The Brunswick is just a great starter Ukulele. They are bit boring looking if we wanted to be critical but they sound good and are well put together. Especially when you consider they compete adequately with many Ukuleles twice the price.
Laka VUT-30 - A worthwhile step up from the Brunswick, the Laka is just a little bit more refined and has better machineheads and a cleaner build. Really this Ukulele should be 30-40GBP more than it is. Let's not tell Laka that though!
Soprano Ukuleles - The right size for younger beginners (4-12 years old) and adults with smaller hands.
If you are at the opposite ends of the scale and have smaller hands or want the most portable instrument for the money you can get - check these three cracking Ukuleles out!
Laka VUS-10 - Much better than it's price suggests. This Ukulele sounds good, looks good and has all the little extras you could want like good machineheads, a nice soundhole decoration and even comes in a bag. We will probably run out of these well before Christmas.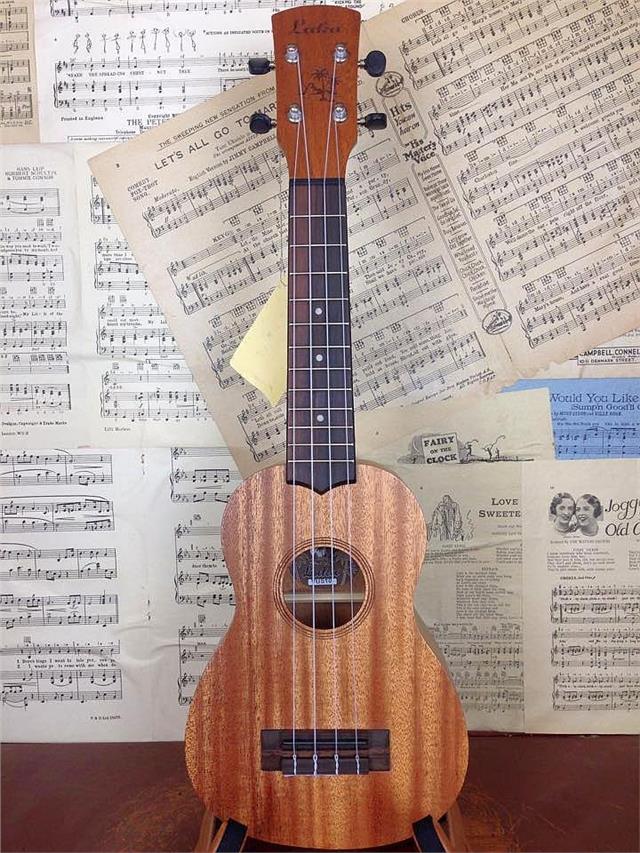 Kala KA-15SBK - Kala are one of the most reputable Ukulele brands in the world and the KA-15S is reportedly the most sold Ukulele in the world! Great for the money. A great place to start.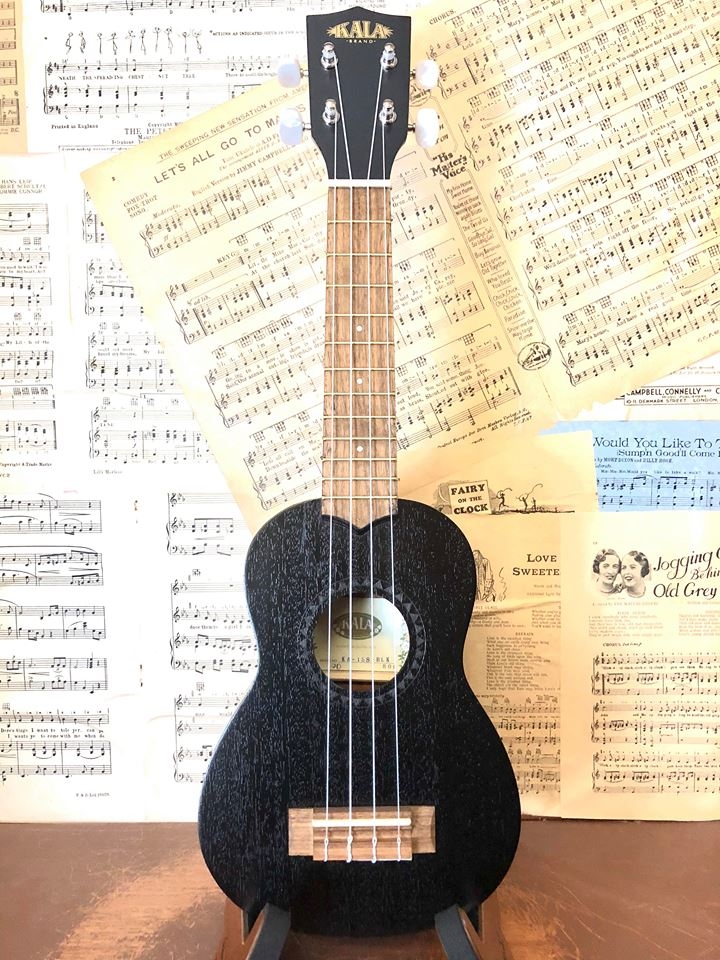 Snail UKS-212 - This Ukulele is a step up from the others mentioned. The Snail sounds great, is well made and has an Ebony fingerboard which is very much a deluxe appointment and will benefit a beginner long term no end. If you can stretch to 100GBP - buy a Snail and the player receiving the instrument will thank you no end when they still play it years down the line!
I hope this helps? When confronted with so much choice it is easy to be overwhelmed by choice. These Ukuleles are just a small sample of what we offer here at SUS but for all intents-and-purpose - these are safe choices when buying a gift for a beginner.
If you are still stuck or want a little bit more advice, please get in touch with one of the team on 01202 430820.
Until next time!
Alex