Happenings in July
In the 22nd July it's Uke Fest Essex. This is a free event (though workshops are £15),
featuring Ben Rouse, Opera-lele, Phillipa Leigh, The D'Ukes, and me and Ian 
Emmerson. http://ukefest-essex.co.uk
Shameless plug!
I'll be playing with Ian Emmerson in London and Shrewsbury in July. Fri 21st July: 
Chat's Palace, Hackney http://chatspalace.com/events/phil-doleman-ian-emmerson/ Sun 23rd July: Theatre Severn, Shrewsbury http://www.theatresevern.co.uk/shows/music/phil-doleman-ian-emmerson
Around the World
In July you'll also find; July 7th 9th: Rocky Mountain Uke Fest, Colorado, with Kevin Carroll. 
http://rockymountainukefest.com
July 14th 16th Uke U, Bend Oregon, with Lil' Rev, Jim D'Ville, Aaron and Nicole Keim, 
Danielle Ate The Sandwich and lots more. http://ukeu.info
July 16th The 47th Annual Ukulele Festival Hawaii, with Ohta San, Herb Ohta Jr. and 
lots more, including Roy Sakuma's 700 piece Ukulele Band! http://www.ukulelefestivalhawaii.org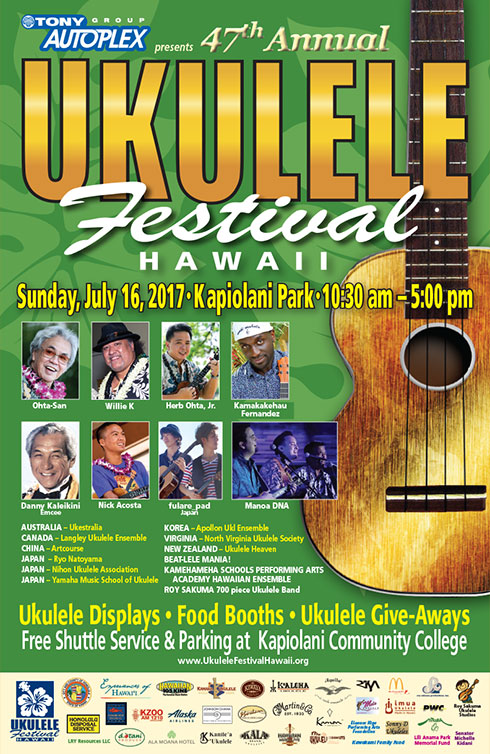 July's playing tip
Be aware. This might sound obvious, but it's very easy when you're reading a sheet, 
trying to remember the next chord or are just generally bogged down in the 
technicalities of operating your instrument to forget to listen to the music you and 
those you are playing with are making. Ask yourself; am I feeling the  beat? 
Am I 'in sync' with everyone else? Am I aware of where I am in the song? When is the 
ending coming, and how am I going to finish? We've all been in a session where 
someone is playing very loud and out of time, or is late with every chord change, 
or where someone carries on after the final chord has been hit. 
Don't let it be you!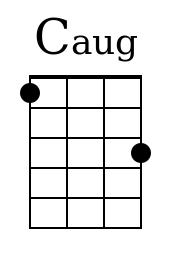 Chord of the month
A nice easy easy one to play this month, but one that's very effective. C augmented 
crops up in the chorus of The Beatles' "All My Loving", in between an Am and a C, 
creating lovely descending line. It's a pattern the Fab Four were very fond of. 
You can use it as an ascending pattern too, which happens in John Lennon's 
"Just Like Starting Over" (if youplay it in C!) and even in Food, Glorious Food 
from Oliver (on the 'Is it worth the waiting for, if we live 'til eighty four?' line)! 
Given the oft-mentioned Beatles influence on the band Oasis, 
it's hardly surprising then that we find this chord in their songs, too. 
"Let There Be Love" uses a C to Caug change several timesat the very beginning.  
All the best,
Phil
www.phildoleman.co.uk