Happy New Year uke lovely people! Welcome back to Ukulelia – Southern Ukulele Store's monthly round up of seriously good ukulele stuff. From Stevie Wonder playing a 3D printed ukulele,  to providing your own percussion as you play, we've got some excellent posts and resources to share with you this month. A-one, two, three, four...
"Isn't she lovely?" - Stevie Wonder plays a 3D printed ukulele

You may think that the world of the ukulele is a million miles from the realm of consumer electronics, but this year's CES (Consumer Electronics Show) in Las Vegas is proof that technology ad ukuleles aren't mutually exclusive in the slightest.
Last week world famous musician Stevie Wonder was introduced to a 3D printed ukulele by tech company 3D Systems. According to an article which appeared on 3DPrint.com, the great man noodled around quite happily with this cutting edge, luminous orange instrument, which featured an avant garde design, testing its strings and listening to its quality.
Stupendous or soulless? Do you think that 3D printed instruments are an exiting vision of the future or lacking in heart? Share your opinion with fellow ukulele lovers below.
 Homemade ukulele goodness from The Quiet American

As you might expect, Folk Radio UK is a great place to turn up interesting sounds and plenty of ukulele goodness  which you may not have heard before. The Quiet American is just such a recent find for the Southern Ukulele team.
In stark contrast to CES's 3D printed uke, this guy makes his own instruments with a whole lot of heart and soul. You can hear it in the "sparse and homespun" reworkings of gospel and blue numbers which make up his considerable repertoire. Well worth a listen if you like your folk. Make sure you give the rest of Folk Radio UK a listen too to turn up more audio treats.
How to make a free ukulele hanger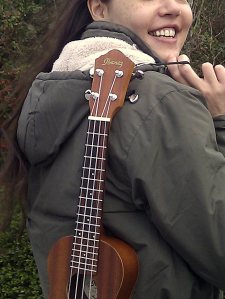 If you have an old shoelace lying around, you're just a few minutes away from owning your very own, totally free and easy-to-make ukuklele hanger, all thanks to this handy how to from UK Ukee. From coat hooks at house parties to your ukulele wall display, this simple trick will make your uke easily mountable and keep it out of harm's way. Thanks, UK Ukee!
 How to add a little percussion to your playing

King Uke of The Ukulele Blog understands a big problem in many lonely strummers lives... "Ever wondered what it might be like to have a little percussion with your ukulele songs... but you don't have any friends?"...and he knows how to fix things. This post offers some shake, rattle and roll for your one-person performance, perfect for those of you who dance to the beat of your own drum.
How do you add percussion when you play uke? Do 3D printed instruments colour you impressed or leave you feeling cold? Have you ever made a ukulele by hand? Share your opinions and experiences right here on the blog or tweet @SUS_UKES.