How KoAloha and Kanile'a plan on ruling the world
This entry was posted on July 21, 2015 by adminuku.
Have you ever noticed how everybody does Ukuleles now? Like, even the smallest music shops that don't have staff knowledgeable or enthusiastic enough about them to tune one up will have a few in stock...
Five years ago you really weren't spoilt for choice of Ukuleles unless you really dug deep into the depths of the internet. Not too far mind or you'll get caught up in all sorts of royal family conspiracy theories and 1970's BBC finger pointing!
Now, with a budget of £200 or as far up as £400 you can fill your boots with choice across the sizes. Especially Concerts and Tenors where the world really has opened up. Without really even venturing past the more popular UK distributed suppliers you could look at Kala, Ohana, Lanikai, Tanglewood, Snail, Baton Rouge, Mainland, Barnes and Mullins, Luna, Aria, Ashbury, Anuenue, Bruko, Ashbury, Sigma and probably dozens more established brands but often you find certain models overlapping. Certain laminate Mahogany Lanikai's look like Kala's and certain 'butterfly' Kala's are the same as Koki'o's and/or Snail's.
Two of our favourite brands to have hit our shores have been the Chinese made Kanile'a Islander range and KoAloha's Indonesian and Thai made KoAlana and Opio series. In this blog I hope to highlight why and convince as many of you as possible to consider picking one of these instruments as your next considered ukulele purchase.
Kanile'a Islander laminates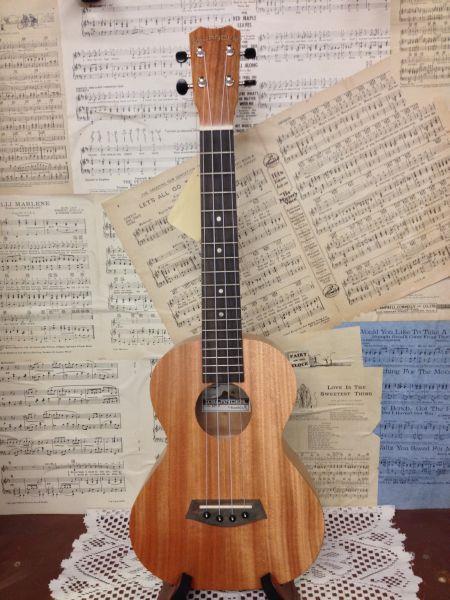 The Islander series starts with laminate Mahogany, Acacia and spalted Maple standard Ukulele's in Soprano, Concert and Tenor.
These Ukuleles are absolutely perfect for the price (approx £120-£150) and have the added benefit of a slightly wider nut width and neck profile than other Ukuleles.. You couldn't imagine how many people base their decision on which instrument to buy on this feature alone. Smart move Kanile'a. The Ukuleles themselves are unapologetically rather plain but they are built in a way that should be impossible for the price and they sound like an all solid Ukulele.
KoAlana Indonesian Laminates
The Koaloha beginners/intermediate Ukulele range is more expensive than the Islander's (£175-£225), but do not let that put you off. Some people may not agree but one thing I have learnt about Ukuleles in my time at the store is that an excellent laminate is often cheaper and better in every way than a solid top/all solid Ukulele in the same price range.
The KoAlana's actually feel like KoAloha's. They respond like a solid wood instrument and they have a very hawaiian mellow feel to them that other Ukuleles at this price are often lacking.
These Ukuleles compare and compete very convincingly with the standard Pono range and some of the fancier Kala Ukuleles and although they are very plain in terms of aesthetic features - a bit of binding around the outside isn't what makes an instrument great. A good player on a budget will sound their best with this Ukulele, a true stepping stone up toward a high end Uke.
Solid top and all solid wood Islanders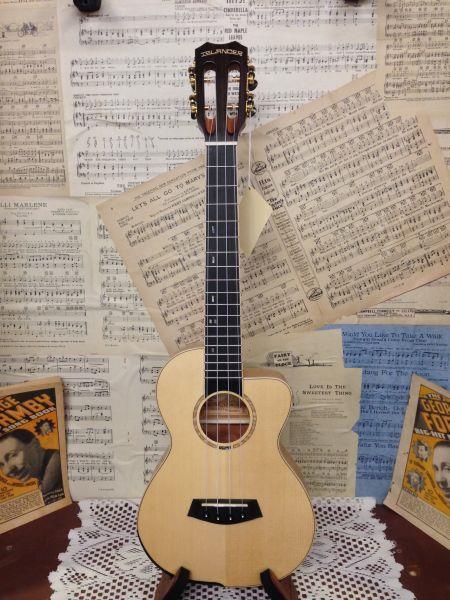 Creeping up in price again slightly, Kanile'a produce a range of Islander Ukuleles made of solid Mahogany and Acacia that may whet your appetite.
The MST-4 is perhaps the flagship model of this series. A beatuiful modern classic Ukulele that is all solid Mahogany, has some very pretty subtle features like binding, a rosette and upgraded tuners. This Ukulele sounds great new but will age lovely and much like the KoAlana's it can really show up some of the more established brands in its price range like Kala, Ohana and Uluru.
Aside from the MST-4, Kanile'a have really tried to explore the possibilities available to them and it is possible to get an Islander under £400 that features Acacia, Spruce and Maple. The FMARM-4-T is an absolute masterpiece for its price. It has a solid Spruce top and a very pretty flamed maple back and sides. Most impressively perhaps is its very pretty bevelled armrest, sleek slotted headstock and a cutaway. It has all of this and still features the superior build quality to its peers and manages to be cheaper than a Pono pro classic, Big Island Ukuleles and the Koa Uluru. Give it a look if you hadn't already seen it.
KoAloha Opio. Made in Thailand by geniuses.
The KoAloha Opio series is not really considered a cheap Ukulele due to the high quality and timber used but they are designed to bridge the gap in KoAloha's catalogue between the KoAlana's and the KoAloha's. They have actually far exceeded this and the KoAloha Opio's have all been a fantastic alternative to a KoAloha itself.
The Opio's are made in Thailand and they are solid Sapele. They have a much richer, darker and thoughtful tone than the Koa Koalohas and I would be as proud to play one as I am of my own KoAloha. The KoAloha KCM-10 is currently just under £700 but an Opio will only set you back between £380 and £480.
So with £500 in your pocket you could buy a Pono Mahogany Deluxe, Kiwaya KTS-4, Martin T1K or a KoAloha Opio. I would be willing to bet money on the Opio being the winning instrument more often than not.
The only other option is to save up for a little longer and land one of these babies.. You won't be disappointed
Maybe now you can see why it seems to us like Kanile'a and KoAloha are taking over the world? For a very long time, both companies have been a reverred and respected name in high end Koa Ukuleles and they have seemingly managed to pass a lot of the knowledge they have gained over the years on to their workforces in the far east and produced instruments at a price that hobbyist players and Uke group strummers can justify. If you are umming and ahhing about paying us a visit in our Bournemouth store - hopefully this will convince you it will be a worthwhile journey?
Until next time,
Alex Beds