Ukulele happenings in May and June
This entry was posted on June 13, 2017 by adminuku.
Happenings in May
We're well into festival season now, and they're coming thick and fast. I'll be at Winchester Ukulele Festival on June 3rd along with Del Rey, Andy Eastwood, Operalele, The Mother Ukers and more.
The following weekend (9th-11th) I'll be at the Ukulele Festival of Scotland with a whole host of performers including Sarah Maisiel & Craig Chee, Gracie Terzian, Gerald Ross, Mike Hind and Jim D'Ville.
On the 16th- 18th, it's the 8th and final Ukulele Festival of Great Britain. I had the pleasure of playing at the very first (and second, and third, in fact the first five!) and I'm really happy that I can be at the final one, though I'm sad it's the last one.
The boys from SUS will be there too with some new, weird and wonderful Ukuleles for sale as long supporters of the festival.
This festival will always have a special place in my heart, and was my first (and for a while only) exposure to overseas acts, some of whom have become firm friends. It was through the Ukulele Festival of Great Britain that I got to meet James Hill, Gerald Ross, Sarah Maisel, Craig Chee, Ukulele Bartt, Paul Moore and The Winin' Boys to name but a few.
The Ukulele Festival of Wales takes place on 23rd- 25th, with The Ukulele Uff trio, Peter Moss, Chonkinfeckle, Percy Copley, Matt Hicks and plenty of others.
Around the World
In June you'll also find; 
The Ukulele World Congress in Indiana on the 2nd- 3rd
Ukulele Festival Dortmund in Germany on the 3rd- 4th
Ukestock Festival Groningen, Netherlands on 23rd- 24th
Reporting back from The West Coast Ukulele Retreat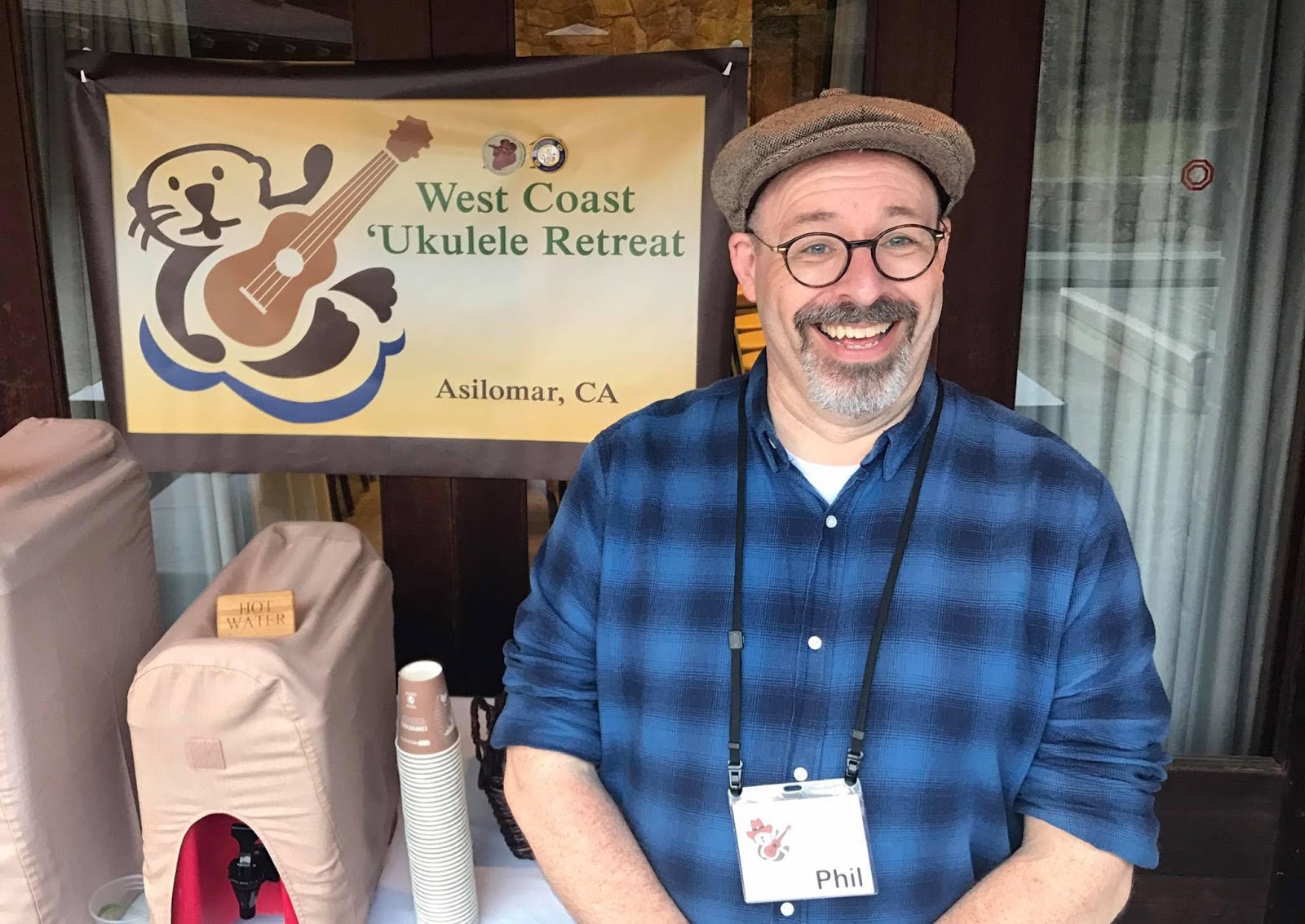 I recently returned from my second visit to The West Coast Ukulele Retreat in California, where again I had a wonderful time. It is such a pleasure to teach and play alongside Gerald Ross, Jim D'Ville (and I'll be seeing both of them again in a few days in Scotland), Dave Egan, Kevin Carroll (why hasn't a UK festival grabbed Kevin yet? He's a wonderful teacher and player), Rhan Wilson, Rick Zeek, Craig McClelland (my Blues Brother) and the utterly charming Dennis Lake.
For me, at least, it's a completely unique experience, where instructors and attendees spend all day and evening together, and teaching can be spread over several sessions, allowing for much more in-depth workshops. The attendees all work so hard, and play hard too in the evening events! I've made some great friends thanks to the West Coast Retreat, and I hope I get to return!
My Uke Story
I'm often asked "how did you get into the uke?", or "why the uke?", so here's how I fell into the world of the ukulele. I've been a bassist and guitarist since the 80s, and often dabbled in other instruments.
When my first daughter was born, in 2003, I bought a uke because I thought it would be a nice, quiet instrument to play nursery rhymes to her with, easy to grab and not too loud or threatening.
I quickly discovered that I could fit a uke under the pushchair, too! I didn't really do much with it until I stumbled across an online forum (The 4th Peg, no longer around), and through that I discovered great players such as Cliff Edwards and Roy Smeck.
I became more interested in what the uke could do, and fell more in love with the instrument, so when I finally met another local uke player (Ian Emmerson) in the flesh in 2007, it was inevitable we would form a band!
Back then not too many people played so we had to stick with a duo. That duo, called The Re-entrants, ended up touring all over the UK for 5 years, playing all the major uke festivals and lots of other music festivals too. In fact, here we are performing in Southern Ukulele Store!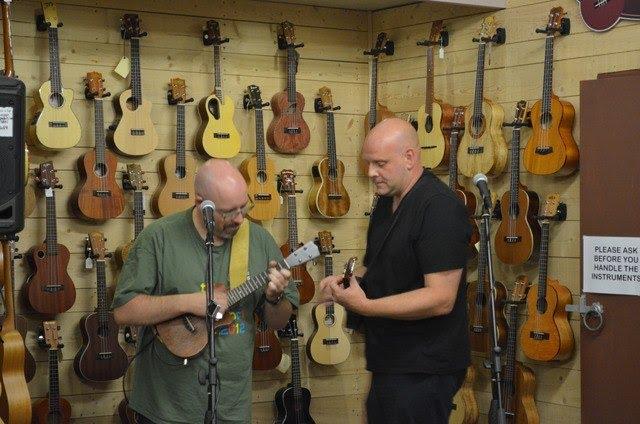 Of course, all good things must come to an end, and in 2012 we decided we needed a break, but happily we're playing together again as Ian joins me on guitar at many gigs.
May's playing tip
Mistakes! We all make them, so it's worth remembering that, from an audience's perspective' a mistake happens and then it's gone.
They won't remember that stray chord or buzzy note by the end of the song let alone the gig, so you need to let go of them too. Dwelling on them will only distract you and then you'll mess up even more.
Bear in mind that the audience are on your side. They want you to be good, to succeed, because they want to have a good time! They will happily let the odd fluff pass by.
When you make a mistake you can choose whether to ignore it, keep smiling, and pretend it never happened, or you can laugh at yourself, make a comment, and turn it into a joke- just remember to keep playing, whatever happens!
Chord of the month
The chord for June is actually lots of chords, because 1. it's a moveable shape and 2. it has two names!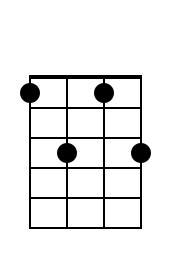 You could call the chord above Fmin7 or you could call it Ab6 (remember how we can call the chord made by playing the open strings of the uke Am7, or we can call it C6? The same principle applies here, every m7 chord has a 6 chord that's made up of the same notes. Which is the right name depends on context, and what the bass player is playing!)
However, because there are no open strings, we can slide this shape about. At the third fret it's a Gm7 or a Bb6, at the fifth fret it's an Am7 or C6 (same as that open strings chord!). You can work out the rest!
When you're playing jazzier tunes, it's common to avoid straight major or minor chords and 'dress them up' a little. An easy way to do this is to play m7 chords instead of minor, and 6 chords instead of major, so it's no surprise that this chord shape crops up a lot in jazz.



All the best,
Phil
www.phildoleman.co.uk