KoAloha, Kamaka or Kanile'a - the Big 3 Hawaiian Tenor Ukulele Shootout
This entry was posted on January 13, 2016 by adminuku.
I thought everything had been written extensively now about Ukuleles. I spent a lot of time recently searching websites and forums trying to figure out what would make someone choose a Kanile'a over a KoAloha or a Kamaka over a Kanile'a or a KoAloha over a... you get the drift?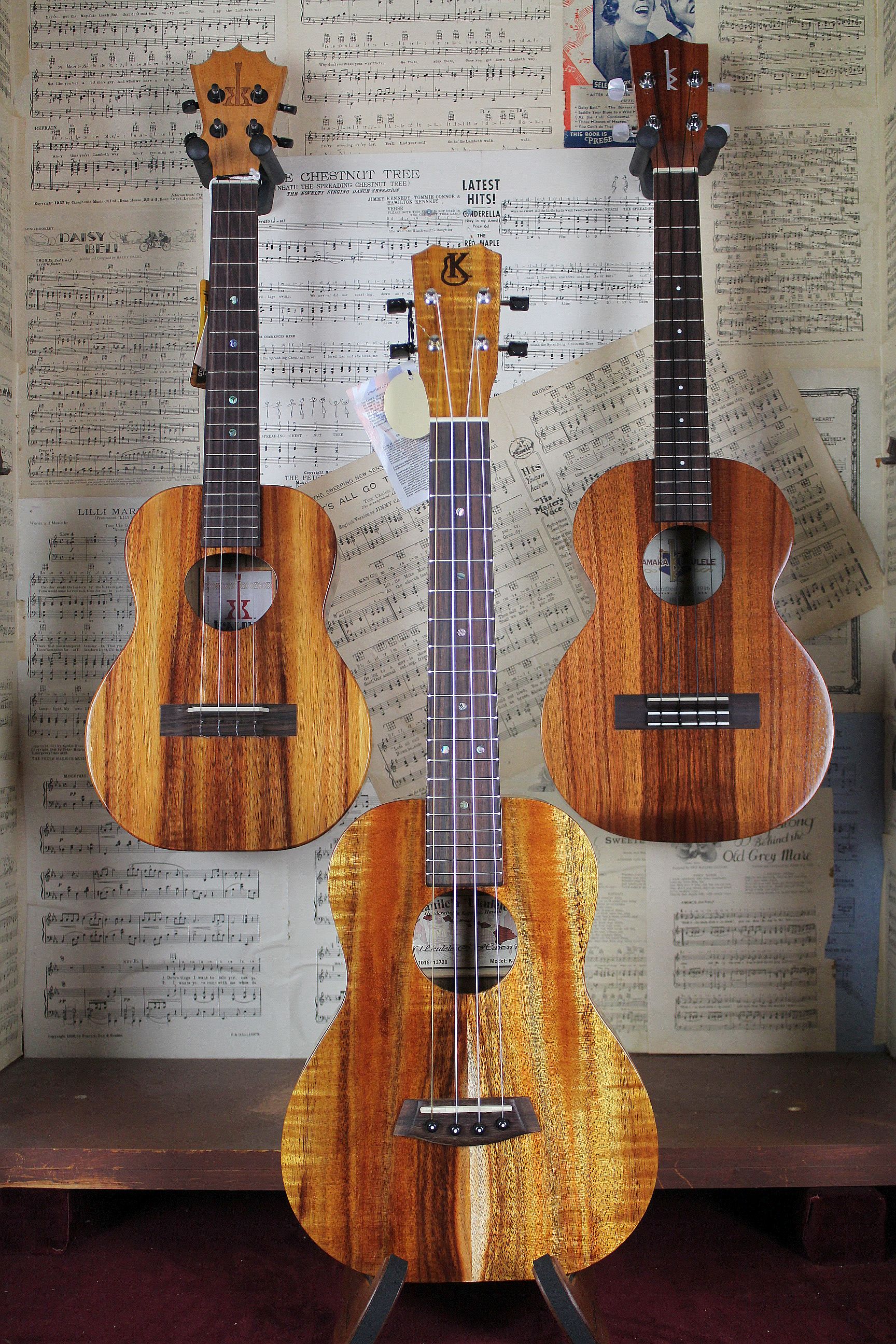 I think I am fairly set in my ways with my own opinions on what makes each one tick but being in the privileged position of spending most of my time under the only roof in the UK with all three brands, I should write about what makes them unique, what makes them similar and why you might choose one over the other.
In the interest of fairness I am going to focus on the standard model in each series. Firstly, the illustrious and established Kanile'a K1 Series
KANILE'A UKULELE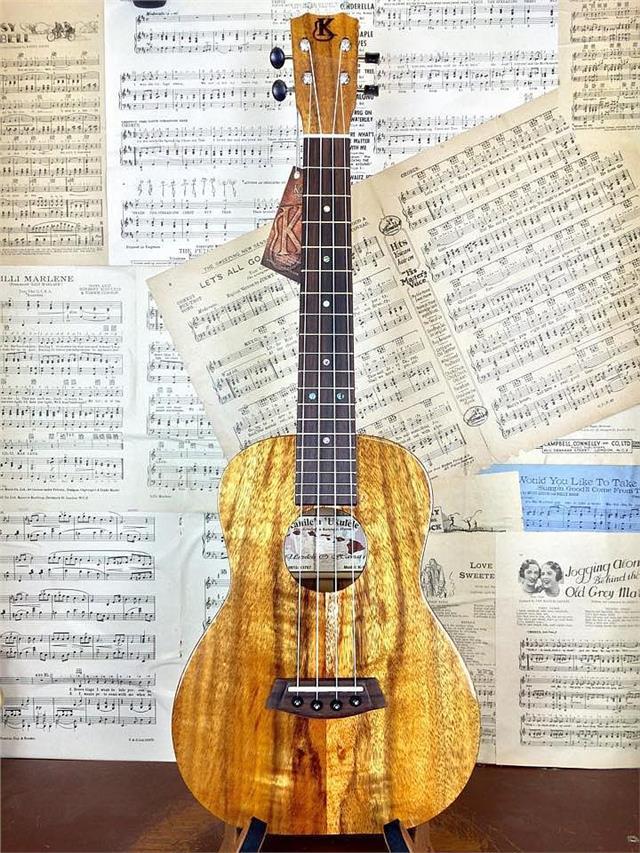 Kanile'a is the product of Master builder and Ukulele enthusiast Joe Souza. Not only does Joe have an award winning smile but he and his family are very passionate about the future of the resources available to them. Not only do Kanile'a have some of if not the best Koa to be seen on their current crop of deluxe models like the KSTP or the 2015 signature Platinum Ukulele but they are also the Ukulele company most publicly active in helping to develop the Hawaiian supply of Koa for future generations.
Why is that important? Well, Kanile'a's forward thinking approach to environmental issues are reflected in the Ukuleles that they produce. Kanile'a are always amongst the first to master new techniques - K1's all feature a guitar style pin bridge bucking traditional methods and in recent years we have started seeing many Ukes built with a modified version of Bob Taylor's (Taylor Guitars) ultra violet glossing technique that is both environmentally friendly and legitimately 'reinvents the wheel' for high end instrument production.
A Kanile'a with a gloss finish opens up very quickly and based on my own experience owning both a K1T and a Kanile'a GL6 - the combination of beautiful wood, advanced modern building techniques and respectful nods towards tradition make Kanile'a a deserving market leader.
So, what would make you choose a Kanile'a ukulele? Many customers that choose Kanile'a point out the same three things when they visit the store. Firstly, one look inside the instrument shows you a very unique row of holes in each brace. This unique system known as the TRU bracing system not only looks the business and makes the instrument lighter to hold but is done to create a better resonance on the top when the Uke is played. As much as I would love to word this perfectly, I can fully endorse Kanile'a's own description of it as they do make a truly unique feeling and sounding instrument. Please do check out their true bracing description.
Secondly, the Kanile'a have a very noticeably different sound to the other K brands. Depending on what strings or tuning you use on a Kanile'a it can be extremely versatile. With or without the stock super Aquila's the K1 tenors are just so deliciously dark when you fingerpick them and with a little bit of bias thrown in for good measure I have no hesitation in suggesting a Satin or Gloss Kanile'a K1T Tenor for the Ukulele player looking for the holy grail. Every so often a customer walks in with a Kanile'a that has been played in and really opened up and I have to fight back the temptation to try and buy it off of them. I don't know about you but I find it reassuring to know that an investment like a Kanile'a will continue to grow with the player.
Finally, the third thing that makes a customer choose a Kanile'a is the neck. Not many blogs or forums talk about a Kanile'a neck but they really have thought long and hard about the shape and they offer a variety of different long neck options. We only see two or three Super sopranos a year but they fly out the door. Often before we even get to photograph them for the website because they just resonate (pun intended) with players. The K1's have a very flat fingerboard with a thin almost contoured shape to them. Of note, they don't feature any binding which is a shame for some but probably plays a part in explaining why they are so comfortable. The hardest decision to make when trying a Kanile'a is whether you can afford to buy both a satin AND a gloss.
If Kanile'a sustainable wood projects interest you, check out this interesting interview with Joe Souza from earlier in 2015. I must admit, I got a bit sucked in and thought it was a lovely project.
I hope that was a fresh insight into what makes a Kanile'a unique. Let's move on shall we?
KOALOHA UKULELES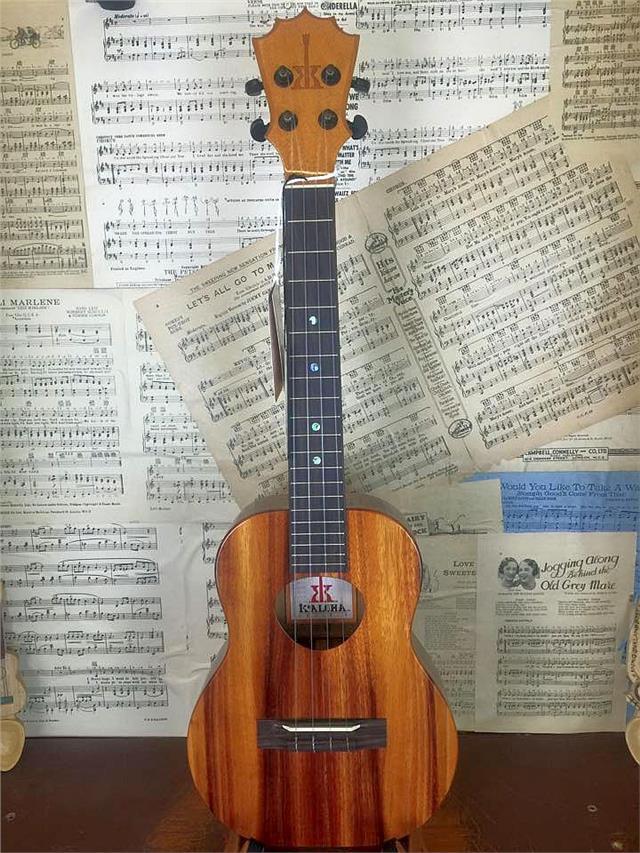 KoAloha is the ultimate family business that found its way into the Ukulele world almost by accident. After dabbling with a world famous miniature playable Ukulele, Alvin Okami spent a great deal of time working on his designs before the company was officially born in 1995. Several years ago a wonderful film was made about the companies' roots and place in the market and is worth watching at koalohahistory.com
Much like the Souza family; Pops and Moms (Alvin and Pat Okami) are known by Ukulele players worldwide and the company ethos, attitude and team spirit is reflected in the instruments they produce. A KoAloha ukulele is more bespoke and has a more open pore rustic charm than the modern looking gloss Kanile'a or even the historical Kamaka brand. Furthermore, the light almost waxy looking gloss KoAloha Ukuleles feature emphasize the eccentricities in Koa wood more than just about any other Ukulele manufacturer in a standard series Ukulele. I think that the lived in, bubbly and clear sound would be just a little bit less magic looking without the aesthetics to go with it. The Pikake model the company make is a smooth satin finish that makes the Koa look quite rugged and almost tiger striped and these sound a little bit darker. As a fingerpicker myself – I have always had a soft spot for these Ukes and my first quality concert Ukulele was a Pikake.
Other unique features you may not have noticed but are synonymous with KoAloha Ukuleles are the 'Musubi' soundhole and on many models a Koa fingerboard.
I searched high and low through forums and websites for information on why KoAloha chose the Musubi soundhole design and soon came to the conclusion that it is a cosmetic addition to help us Uke-Enthusiasts to pick out a KoAloha in a lineup and know it straight away. There is nothing wrong with an identifiable feature and actually as a KoAloha owner myself I find it quite jarring when I find google images of older KoAlohas with the odd mandolin oval or a traditional circular shape. Although, some of the upcoming 2016 models look bloody lovely with a rosette.
Some recent stock KTM-00 Tenor KoAloha's have had a rosewood fingerboard but many and most KoAlohas have a lovely figured Koa fingerboard. I am biased once again but I love these fingerboards and it is so rare that we have to do any kind of set up or fret work on a KoAloha ahead of dispatch. They are just top notch and the purple/orange/brown/gold tinges on Koa fretboards are just beautiful and in no way over the top like a lot of unique wood appointments like Cocobolo or maple.
Why would you choose KoAloha? If you like Ukuleles with bags of tone and personality. The KoAloha is the one that sounds the most opened up from new and they are very fresh, honest and crisp. KoAloha's make me play with energy and confidence!
As a grand finale to this part of the blog I thought it would be good to briefly mention the elaborate Ukulele designs that KoAloha are known for. Jukeleles, the Scepter and a Pineapple sundae. If these don't mean anything to you yet then take a look at the pictures below. Here at SUS we semi regularly get these instruments into stock and the Scepter especially is just an absolute work of art.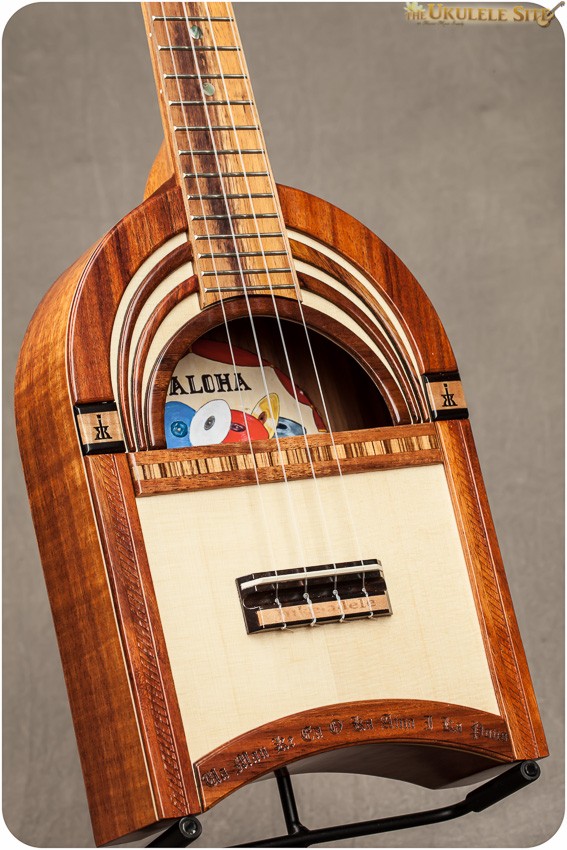 Still with us? Good, let's move on to Kamaka – a company with a 100 year history of Ukulele innovation that produce a distinct and modern standard model of their own.
KAMAKA UKULELE
Now Kamaka, there is a story! If you read various online sources regarding their history it is certainly interesting and incredibly inspiring to learn about Samuel Kaialiilii Kamaka setting up a Ukulele shop from home in 1916. Later going on to create the first Pineapple Ukulele and setting up shop on South King street in the mid 20's. The part of that really reflects well in the modern Kamaka ethos is Samuel's advice to his children about the family business - 'If you are going to make instruments and use the family name, don't make junk'.
My first introduction to a Kamaka ukulele was only last year and it came after 4 years of working very closely with Kanile'a and KoAloha Ukuleles. My first impression of the Kamaka was just how modern the standard model felt and looked. I was expecting something that was built on a foundation of old techniques and designs, perhaps with a rustic windswept light finish like a KoAloha. However, the instruments that arrived more closely resembled some of the Imua or Kanile'a Ukuleles we receive. Like the other two K brands - Kamaka's have a very identifiable colour to them with a more noticeably dark almost red hot chocolate swirl in the patterned Koa all around. I have seen more than ten Kamaka HF-3's now and although the wood grain and character of each Uke is different, Kamaka obviously like the instruments to look 'like a Kamaka' and similar and that takes a great deal of effort.
The Kamaka neck is thinner than the Kanile'a and even a little thinner than the KoAloha so if you have smaller hands or like a thinner profile, bare the Kamaka in mind. I wouldn't say its small enough to be consider small but certainly small for a Hawaiian Ukulele.
A new Kamaka has a very mellow sound. If the KoAloha is the loudest and most boisterous and the Kanile'a is the richer, darker alternative then the Kamaka is the confident elder statesmen that doesn't feel the need to shout to be heard. The Kamaka branded strings fitted reinforce this too. The Kamaka strings are black nylon which may be the most traditional of the three instruments but changing to a clear fluorocarbon makes the instrument twice as loud so it really is as dynamic as the player will allow it to be.
So why would you choose a Kamaka Tenor over a Kanile'a or a KoAloha? Well, I think that these Tenors leans a little more towards a fingerpicker than the others. The lows and mids on the Kamaka Ukes are always abundant and lazy Hawaiian music, ballads and complex music really sing when played on a HF-3. Having said that, the best Kamaka I have heard to date in the video below is being played hard, fast and with a variety of styles. Check it out.

SUMMARY
I wouldn't like to repeat myself too much so I think that it's best to leave this blog with a bit of direct comparison. More wooly procrastination isn't entirely necessary and if you are in the market for a high end Ukulele – I really hope this post helps you come to your decision. Please do contact the shop on 01202 430820 or at shop@southernukulelestore.co.uk if I can assist further.
Kanile'a Pro's – Rich full sound, fantastic finish, unique look to each one, chunky neck profile, pin bridge
KoAloha Pro's – Brighter and crisper sound, rustic light finish, feather light, open up very quickly, quirky looks
Kamaka Pro's – Excellent finish and look, mellower sound, slender neck profile, adaptable to different styles and storied history
Until next time.
Alex Bedrijczuk