Summer Holiday Blues... Kanile'a and UK Luthier built ramble
This entry was posted on May 15, 2018 by adminuku.
Is there such a thing as the 'Summer Holiday blues'?
Maybe I am alone in this but I just can't play sad songs on the Ukulele in the summer.. Last week I had the opportunity to try a Bonham resonator before it met its new owner and all I could play were cutesy upbeat little jingles. Frankly, a resonator deserves better than the music I offered it. Some instruments just ooze soul and that spark. What do you think? Is it crazy to think there are summer ukes and winter ukes?
Some definite summer Ukes arrived on our 'mahusive' Kanile'a delivery last week. I particularly like the Ku'uipo Concert that came in. A thesaurus lover could weep with delight at the amount of descriptive words that premium Koa puts on the tip of your tongue. We've been a proud Kanile'a dealer for close to ten years now and the stunning looks on Ukes coming through in the past year have managed to surpass what was available previously. Kanile'a have put the world of effort in to aiding reforestation in recent years and it is excellent to see them making the most of the premium woods they have available to them now, whilst being mindful that future generations can still benefit from Koa.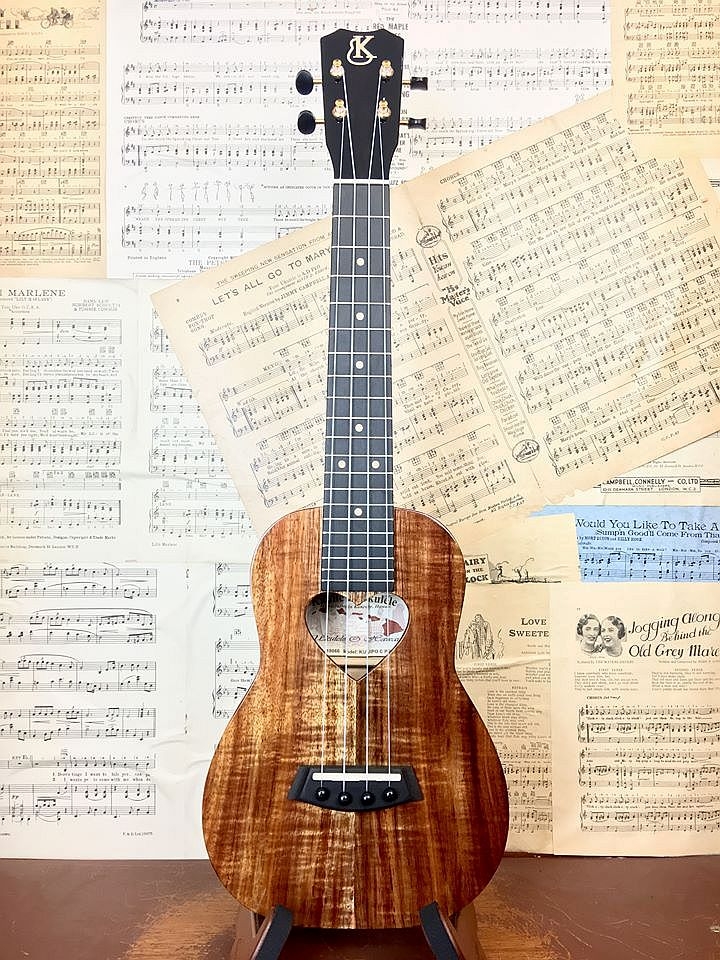 Sometimes the really sexy ones slip through the net as well. Take a look at this K-1TE and explain to me how this wood wasn't used on a Master Grade model?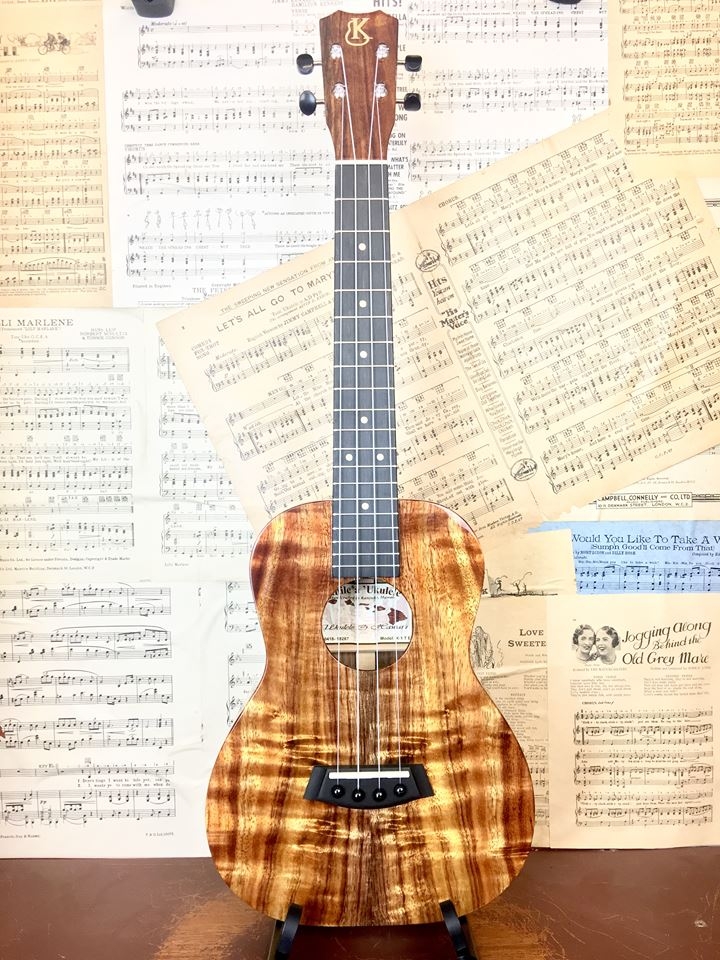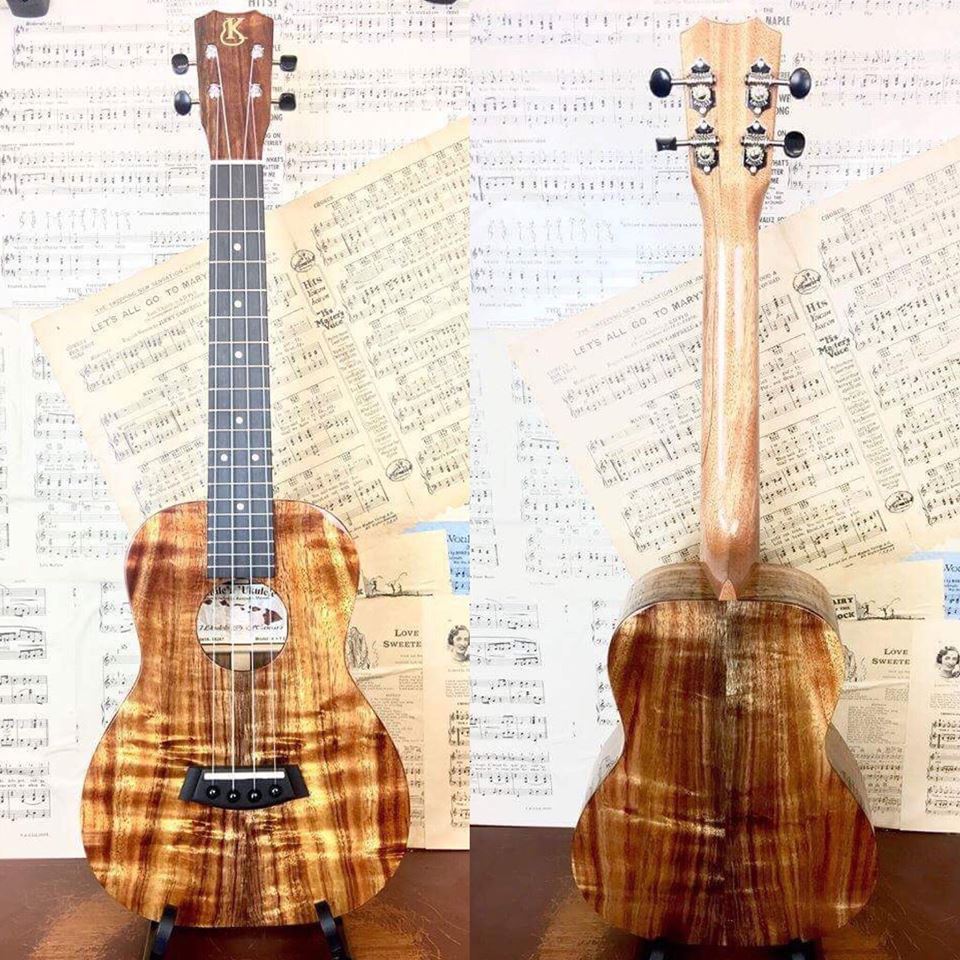 Man, I love Ukuleles.
For every emerging juggernaut like Kanile'a producing beautiful instruments in far off exotic climates are fantastic grass roots builders here in the UK. Over the years we have been honored to display and/or sell ukes by Pete Howlett, Peter Jacobs, Marshall Stapleton, DJ Morgan, Luke Futcher, Daryl Cursley, Steve Evans, Rob Collins & Richard Cross (so sorry if I forgot somebody) - all instruments have been completely different but very charming and none of these Ukes would look out of place in a premium Ukulele collection.
Most recently, we received our first ever Chris Perkins Ukulele. We were lucky enough to meet Chris and his wife last year and try a couple of his Ukuleles off the back of a fantastic positive review from Gotaukulele. We were just as blown away.. The three Ukes we tried and the one that has just arrived all possess a tremendous amount of warmth and even strung high G have a silky depth to them. The unusual but not unconventional slope shoulder shape and thicker body depth really add something that I didn't know was missing haha!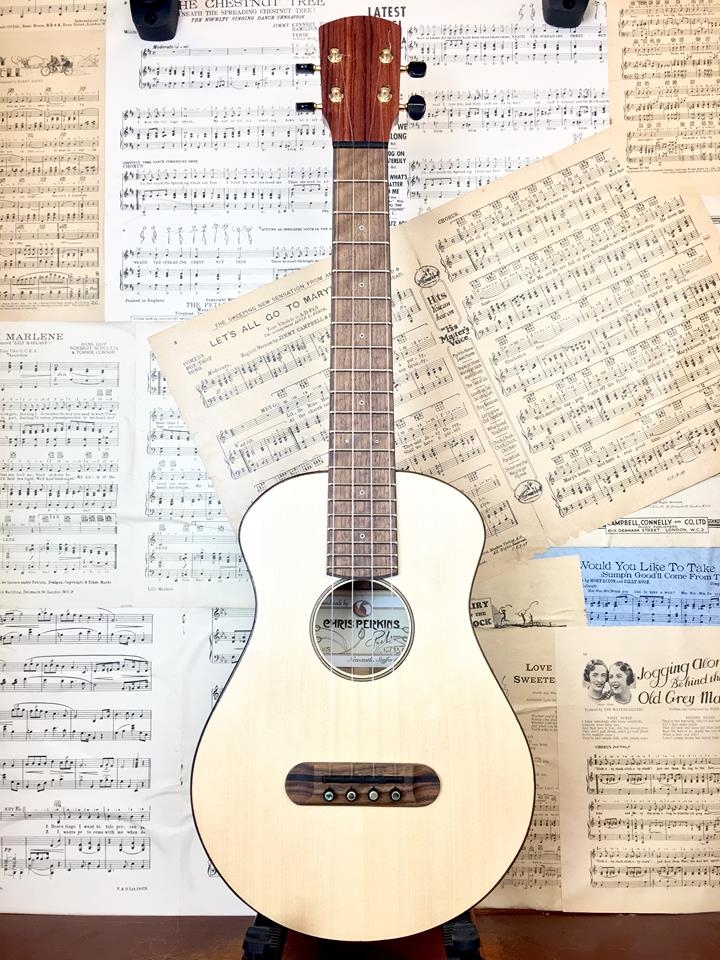 I thought I would give it a little play for all of you and as you can see, even a great Ukulele can't mask my inadequacies as a player. Hope you like it, as of writing this instrument is still available.
Until Next Time
Alex