Romero Creations Tiny Tenor Koa Ukulele Review by Phil Doleman
This entry was posted on September 19, 2017 by adminuku.
Every month we ask Phil Doleman to try out a Ukulele and give us his thoughts. This month he is looking at the Romero Creations Tiny Tenor Ukulele.
ROMERO CREATIONS TINY TENOR
This is an intriguing uke, and one that traditionalist might immediately dismiss; they'd be making a mistake, though! Luthier Pepe Romero worked with Daniel Ho to design this uke, and the idea was to make a tenor that was as small as a concert (so easier to tour around with) but with the playability and sound that Daniel Ho demands for his performances. Romero then had the instrument (and it's Koa cousin) mass produced in Vietnam, making it readily available and more affordable.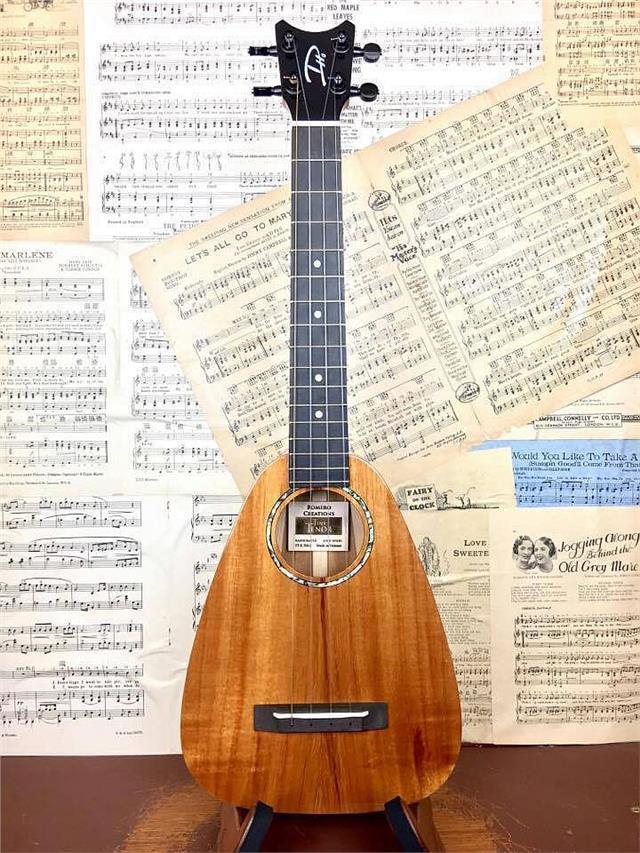 The shape is quite unusual, almost like a pineapple uke, more triangular, but still elegantly curved. This is apparently a result of trying to get the soundboard are to be as large as possible, combined with making the bottom end nice and wide so that it's easy to hold. The headstock is very small, again to help with the overall size, which is just under 24" long and 8 ½" at the widest point of the body (almost exactly the same as a couple of concert ukes I have here). This, combined with the full tenor scale of 17" means they certainly managed their target of getting a tenor uke into a concert package!
So now we've talked about what makes it unusual, let's look at the more traditional aspects. It's made of rather nice, gloss-finished, stripy mahogany, with a one-piece mahogany neck (no stacked heel or scarf-jointed headstock). There's a rosewood fingerboard with 16 frets and mother of pearl dot markers, which are echoed on the side. The bridge is also rosewood and is of the 'string through' variety, and it carries smoothly compensated saddle. I like this design, it's elegant, simple, and also ensures that the strain of the strings is taken by the top, not just the bridge. The headstock is faced in rosewood too, with a mother of pearl 'D Ho' logo. There's an abalone sound hole rosette, but no other adornments, giving the uke a simple, classic look despite it's unusual design.
The 'made in Vietnam' tag might make some potential buyers back off given that this uke is well over the £500 mark, but really it shouldn't; the build quality is excellent. I've gone over this uke with a fine-tooth comb and have not found a single finish flaw, glue drop, rough edge or indeed anything imperfect at all. The inlay, rosette and dot markers are all fitted perfectly, the nut is nicely rounded on the corners, on the inside the bracing and kerfing is all very neatly done and even the makers label is printed onto a piece of wood rather than paper! I'm genuinely very impressed with the way the instrument has been put together and finished. The small details also scream 'quality'; the rosewood heel cap, the very subtle, narrow end graft on the bottom of the instrument where the two sides join. Neither of these things are necessary but their presence just demonstrates that care and thought has gone into the design and construction.
Finally, the very unusual headstock carries a set of unbranded, black metal geared machine heads. Despite the lack of a makers name on them, they still feel like high quality units, and the tiny buttons are in fact ebony (but so smoothly finished it took me a while to realise!).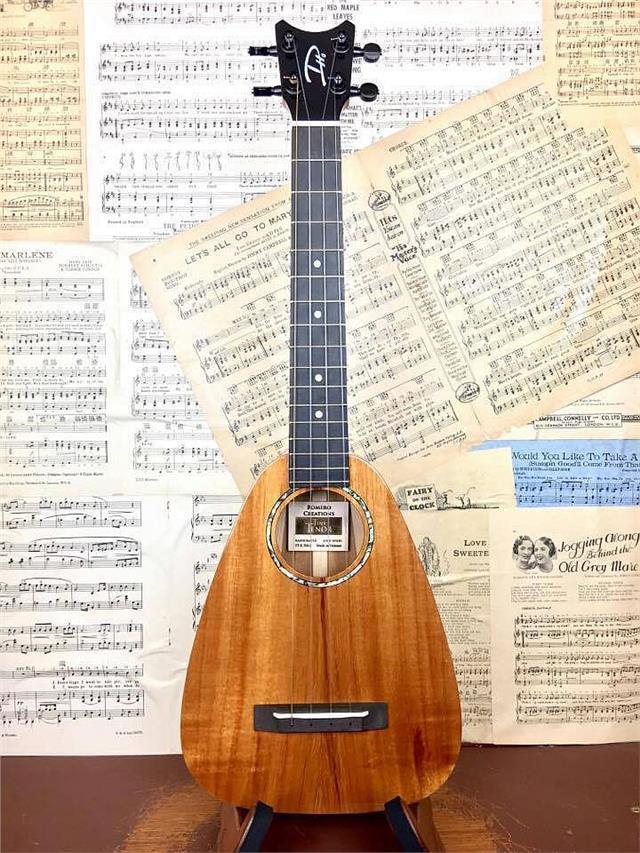 So how does it play and sound? It's really pleasant to hold, that wide bottom bout helps it sit either under the arm when holding without a strap, or to sit nicely under your arm when resting on your lap. Very small-bodied ukes can be difficult to 'control', but this shape works very well in that respect, and yes, it does feel like a concert! The neck is slim, but not too slim and retains a nice rounded profile and depth right up to the 11th fret where it curves into the heel (some ukes taper more slowly, meaning as you go up the neck it gets to be more of a handful). This does make it very comfortable to play even high up the neck. The gloss finish doesn't suffer from the 'stickiness' that you sometimes find, and the frets are very smooth and well-dressed. Let's not forget the fingerboard too, it's really smooth and tight grained and finished to a lovely smooth playing surface. It's set up very well, the action is just where it should be, and the intonation is absolutely spot on according to my electronic tuner.
The Tiny Tenor has a very clear, precise voice. There's bags of projection but it's not at all brash, as the sound is 'supported' by a nice full midrange, and there's plenty of sustain for those slow fingerpicked ballads. This one came with a low G string fitted (unsurprising, as Daniel Ho uses a low 4th) which I first though might be a bit of a let down on such a small body. Actually, the design helps to give the bottom end a nice, tight responsiveness whilst at the same time keeping the G from booming out and drowning out the other strings when strumming. It's a nicely balanced, clear, loud sound that suits chord melody really well.
The Tiny Tenor compares incredibly favourably with Hawaiian K-brands and Japanese high end ukes both in it's sound and build quality, and I was genuinely impressed. The style may divide people, but there's no denying that the design works really well. A beautifully well-thought out, characterful, high-grade instrument, well worth considering alongside other, possibly more expensive, brands.
All the best,
Phil
www.phildoleman.co.uk