PHIL DOLEMAN IN-STORE FRIDAY 1st AUGUST
This entry was posted on July 2, 2014 by adminuku.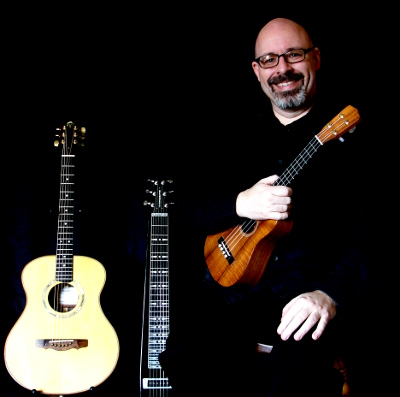 After the great success of our In-Store workshop and gigs with Manitoba Hal and Joe Souza/Aldrine Guerrero, we are turning our attention to the next one with the excellent Phil Doleman. Phil is highly rated as a uke player and was one half of the immensely popular duo the Re-entrants. Phil's workshops and performance are always a highlight of any ukulele festival.
Phil will be joing us on Friday 1st August, with a workshop at 3pm followed by a concert. We recently caught up with Phil and asked him a few questions.
Q. How long have you been playing ukulele?
A. I've been playing uke for 11 years, but played guitar before that (coming up on 30 years!)
Q. What inspired you to play uke?
A. There weren't many around in shops when I started. I saw one in a shop window and though it would be fun to play nursery rhymes and songs with my new baby daughter. I got hooked very quickly.
Q. What ukulele players do you listen to?
A. I love the things that modern players are doing (James Hill's new folkier direction is very cool), but I'm still a sucker for Roy Smeck, and Cliff Edwards, and any old time jazz, blues etc. It's much more about the song for me. Among current players, I really like Ukulele Uff and Lonesome Dave's style, and Dead Man's Uke too, simply because they both swing along and get people's feet tapping, and because they have great taste in material.
Q. If you could of written any one song, what would it be?
A. Blimey, there are so many great songs. It would be cool to have written something so pervasive as 'Ain't She Sweet'!
Q. What's your ukulele highlight and lowlight so far?
A. The final Re-entrants gig was amazing. Huge home-town theatre, big shiny posters around town, great atmosphere. I don't worry about lowlights- I try and keep busy enough that if a gig does go as well as I'd hoped, I can just forget it and move on to the next one.
Q. What's your favourite ukulele?
A. My favourite uke is my Pete Howlett koa concert.
Q. What's the best bit of ukulele advice you have given and you have received?
A. Best advice I've been given was, "the left hand plays the notes, but the right hand makes it YOU". Best advice I've given? Probably the same, but I will have pretended I thought of it.
Q. What can people expect from your workshop?
A. In the "Jazzing It Up" workshop we will take a familiar tune, make it swing, find alternative chord voicings, and then start adding chord extensions that really make it sound like real jazz!
Q. What's your favourite colour (question courtesy of Smash Hits)
A. Blue
Q. If you could have any dead musicians talent, who would it be?
A. I suppose I'd be a fool not to say Mozart, but I'd happily settle for Cliff Edwards
If you are interested in attending either the workshop, gig or both. Please contact us on 01202 430820 or shop@southernukulelestore to reserve spaces.
https://www.facebook.com/events/153335214813410/
- See more at: http://southernukulele.justapplications.co.uk/blog/?p=114&preview=true#sthash.eFuxf2iw.dpuf