Manitoba Hal Workshop - An excellent afternoon
This entry was posted on June 20, 2014 by adminuku.
On the 24th May we had the great pleasure of hosting a workshop and in store performance from one of the worlds hottest ukulele players. Manitoba Hal was in town to help people forget their blues by learning to play the blues.
I've been to and have sat in on more ukulele workshops than I can remember and Hal's was one of the best I've witnessed. He managed to make it both easy enough for beginners and involved enough for intermediates that everyone was left both learning and happy. Hal spent a good hour teaching a blues progression including turn around and the building blocks for players first steps into soloing, as an observer I could actually see the improvement in peoples playing as the hour past. Hal has a great bedside manner and it felt more like getting cool tips off of a mate than a teacher/pupil thing.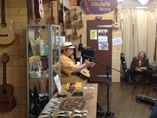 What followed next was 45 minutes of pure ukulele brilliance, even with the equipment malfunctions which Hal actually turned into a positive thing, when his effects unit gave up the ghost and he just adapted his style on the spot. We were treated to songs from Hal's two CDs and some thoughtful renditions of great blues numbers. There is a great storyteller feel to how Hal performs and in such an intimate environment  it was  magical.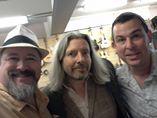 All in all a great day spent with a great man. Don't forget we have Aldrine Guerrero and the Kanile'a family here next week on 27th of June. Give me a call on 01202 430820 for information. We've got lots of you down on the list for the workshop already but we can squeeze a couple more in.
Take Care,
Paul
www.motherukers.com