Whats new in June/July and the UFOGB
This entry was posted on June 23, 2017 by adminuku.
The original post can be viewed here with more photos relating to Cheltenham.
http://www.icontact-archive.com/vb_QF00Z4fgxG3h1kQx41Jw4qN29uAr2?w=3
How did you enjoy that mini heatwave? It was crazy down in Bournemouth with holiday makers and day trippers really getting a taste of Bournemouth at its best. We have met some wonderful people that planned whole holidays around coming to the store and the instore events continue to be an absolute blast. Also, after months of CITES related holdups at the start of the year; Ukulele favourites like KoAloha, Pono, Kala etc are beginning to trickle back into stock in bigger numbers and long may this continue as we dive head first into Summer and beyond.
Anyway, this is what we are excited about in June/July.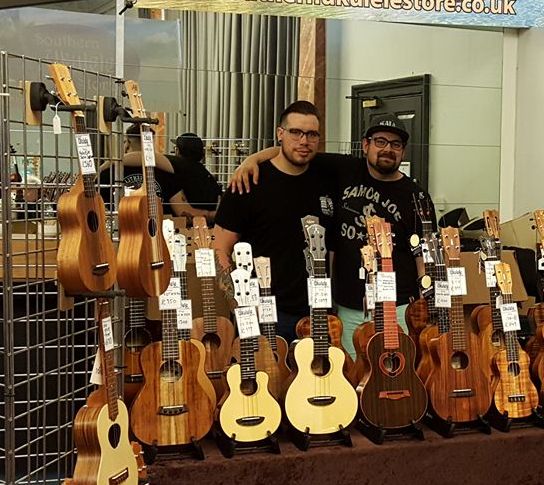 Upcoming Free Workshops and Instore Gigs
This year has been just fantastic for quality and quantity of instore workshops and performances. The 2017 list of instores reads like a Ukulele Hall of Fame class with James Hill, Del Ray & Adam Franklin, Manitoba Hal and Andy Eastwood all leading the charge in the first six months of this year and we aren't done yet! As summer comes to a close we will be hosting workshops with Stephen Sproat on the 23rd of September and Craig Chee and Sarah Maisel on the 21st of October. As usual these workshops will be absolutely free but spaces are limited... If you think you would like to come then please do get in touch with either Rob or I (Alex) in the shop on 01202 430820 to book a place.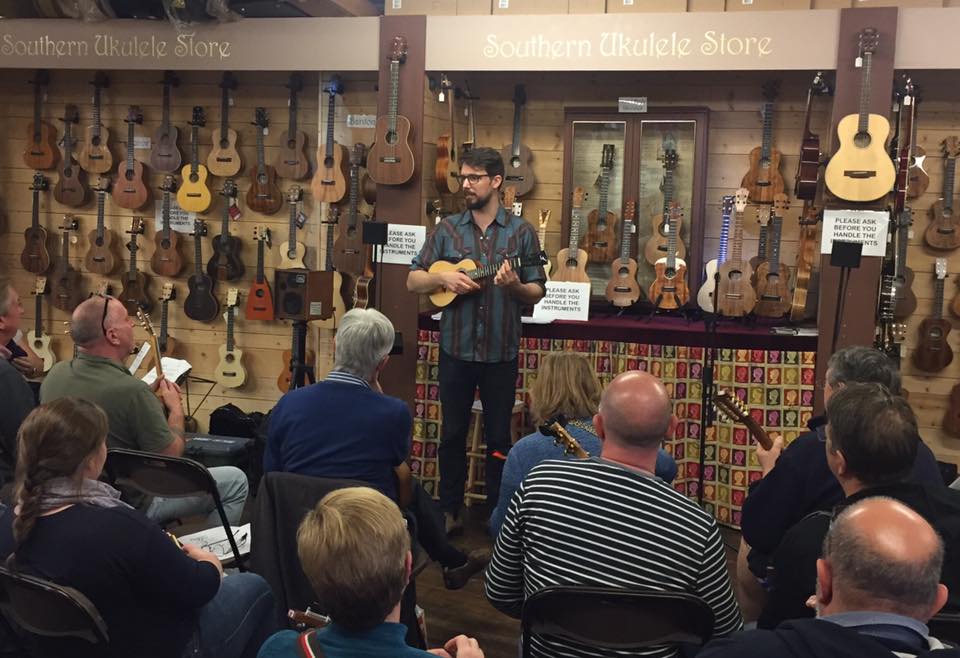 Stephens workshop will cover Strumming patterns including The Triplet, Rock Strum, Hawaiian Strum, Choppy Strum and Fingerpicking patterns.
Also how to Add colour to one's Playing (Accents and attitude!)
and Inversions - up the fretboard versions of common chords (C, C7, D7, E7 etc).
Craig and Sarah's workshop is a fantastic social experience. They are both so happy and enthusiastic that we are quite happy to let them teach and show us whatever they like. Some details will be available closer to the time.
Super Duper Salt And Pepper Ukuleles
One of the most exciting things we had the pleasure of seeing in Cheltenham last week was Kala's new USA made Doghair Mahogany Tenors. The Salt and Pepper Ukulele in particular blew me away.
It sounds lovely and rumbly and soulful. The looks are to die for but even putting that to one side, this Tenor feels big and deep and has a lovely little boom to it when you fingerpick it.
If you like the idea of a slightly chunkier neck then this Ukulele is for you! The sound of this Ukulele reminds me of a Pro Classic Pono and its easy to forget when you look at it that it is made of some very fine Honduran Mahogany.
I think we can all agree.... 
SUPER RARE USED Martin 3K Koa Soprano Ukulele​
Editor Note: I am going to be gutted if this Ukulele sells before I press publish on this article
The Martin 3K Professional Ukulele is to many players the holy grail of Ukuleles. First introduced in this Koa incarnation back in 1920; typically this model was known as one of the first truly premium Ukuleles. As happens with many more unusual instruments in the catalogue - Martin discontinued the Koa model in 1941 before bringing it back for a brief spell from 2012-2016/17. These Ukuleles were special order only and do not appear to be available now to order from Martin.
The one we have for sale is in super duper tip top condition. The original owner never even took the swing tags off. Check out our listing for it below if you like drooling over historic gorgeous Ukuleles.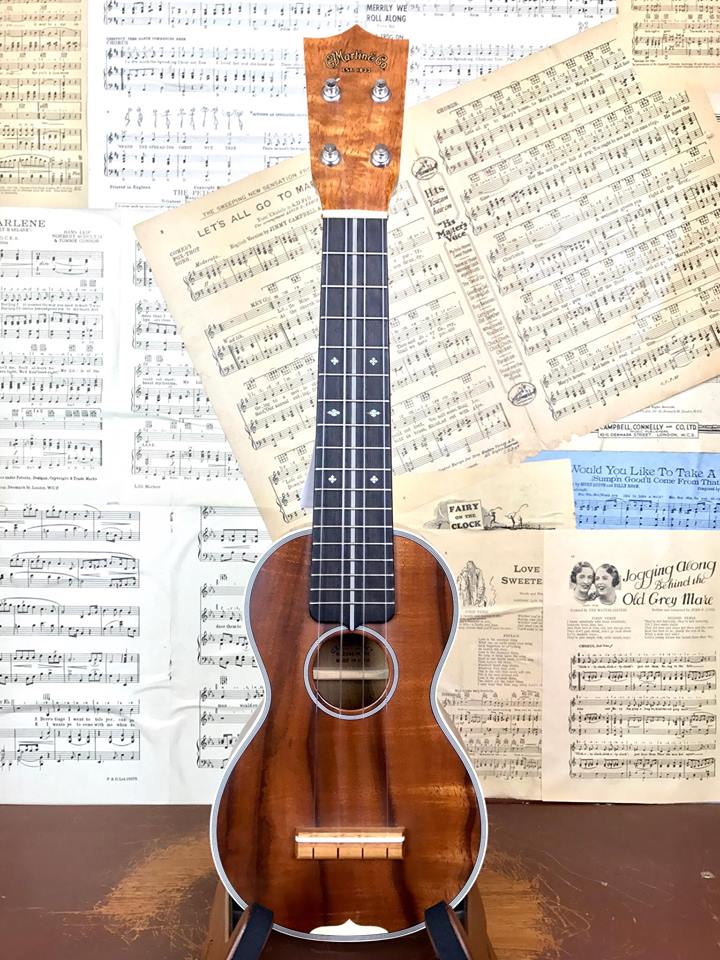 CHELTENHAM - Ukulele Festival of GB
The final Ukulele Festival of Great Britain at Cheltenham Town Hall was in no way a somber affair. Every year, we spend months planning what Ukuleles to have in stock and love seeing people react to our display as they walk around the room. Aside from that, we enjoy catching up with our friends from the trade like Sutherland, Pete Howlett our friend Mat from World of Ukes. I only hope that this festivals finds a way to continue in some form next year...
Cordoba seems to have grown in the UK this year. Nearly every store that sold a variety of instruments had a Cordoba or two on the stand. We've been really impressed with them but it was a surprise to see everybody else has found big love for them too. If you plan on visiting us this year then try one out.
The new Kala 8 string baritone model is pretty impressive. Everybody in attendance seemed to queue up to have a go including us. We were chuffed to have a couple in stock this week for all of 6 hours before they were snapped up. Excited to get more in time for Christmas...
Pete Howlett had some wonderful Ukuleles on display as well. Rob, our Phil and every Bass player in the land spent the day trading Pete's new bass around and smile to themselves. A truly exceptional Bass that hopefully Pete will make more of in the future. Pete had some lovely Ukes with him and I know a couple were still for sale at the end of the day. Check out Petes site or contact him on facebook for details. Alternatively our website has some fantastic Howlett's in stock. If I had to choose a favourite??!? I would say the one in the link below is it.
DJ Morgan and Wunderkammer had people flocking to try their instruments. Liam from Wunderkammer especially blew us away with his mini Weissenborns that seemed to turn up at every jam including Pete Howletts impromptu blues jam in the afternoon.
Check out Liam's Ukes now at http://www.wunderkammerinstruments.co.uk/
Check out DJ Morgans Ukes now at http://djmorganukuleles.co.uk/
For our store - the star of the day was KoAloha. We sold every KoAloha we took up to the show with us. I only wish KoAloha would hurry up and finish the factory move they have been powering through for a while so that they can build us more fantastic Ukuleles.
The Opio's continue to be in a league of their own especially the Spruce models and the Hawaiian made KoAloha's we are getting are crisp, clinical and continue to show signs of progression which is what you would expect when a company brings out such a great intermediate range like the Opio's.
Something a bit different to end...
You could spend days on Youtube searching for Ukulele covers and I bet most of us already have.. I thought I would share one of my favourites with you.
Geraint Morgan is the product manager in the UK for Kala and Pono and quite an understated Ukulele player himself. We have always liked his rendition of the Family guy theme.
https://youtu.be/Vvbjz2Cr1sA