I thought I would kick off the Southern Ukulele Store blog with a quick word on the most recent interesting thing to come in the shop. A customer came into the store today from a shop just across the road from us in Southbourne called 'Avant Garde'. He and a friend had printed this ukulele off using a 3d printer and needed us to string it up and perhaps offer some insight on improvements that could be made for mark II.
Well actually, they didn't ask for our opinions on it but we were intrigued enough to take a few pictures and string it with Aquila's to keep the colour scheme intact. The frets are quite sharp and the whole thing is pretty jagged edged which is to be expected but this is a pretty good first attempt.
Once the neck gets a  reshape for a future design and its printed in a colour that makes it look less like a futuristic George Formby got endorsed by Apple, he might be onto a winner. One thing I learnt from it is just how sexy a set of Grover machineheads really are and the amount of tone they add compared to the lego piece style plastic ones on this prototype. I think even when all is said and done with this instrument, they will end using metal machine heads.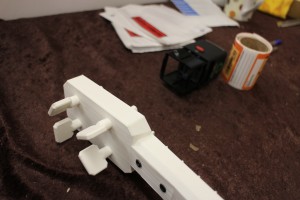 Has anyone else tried to print a ukulele yet? Doing a bit of research before I wrote this I saw a couple of designs on ukulele underground. We'd love to know what results other people have had on a ukulele with a traditional sound hole.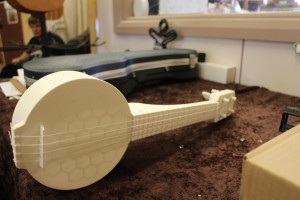 So when faced with the question 'Is this the future of the Ukulele?' I would have to say that it has its place but thankfully, nothing really beats the sound and look of a real tone wood or indeed something thats a hybrid like the Flea's and Flukes.
Thanks for reading. In the future you will probably see a lot more posts from Paul or Rob but I thought i'd write my piece first and just say that if I can be of any help or answer any questions you may have about ukuleles please do feel you can ask for me by name (Alex).
I'm a guitarist by trade and left handed so I'm the guy to ask for if you want to know what ukuleles convert well to left handed or perhaps what size ukulele would best suit a slightly overweight Telecaster player.
Before you ask, I'm a massive fan of KoAloha and Beltona ukuleles and I'm sure you'll see a post from me very soon about why you need a Beltona Tenor Resonator in your life!
Until next time.
Alex