Accessories that live a double life...
This entry was posted on April 23, 2015 by adminuku.
Accessories that live a double life!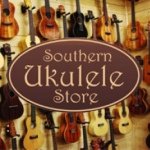 Here at SUS we get dozens of enquiries every month about niche accessories that upto now, our suppliers and it would appear other territories have not had the need for and so nothing has been manufactured with the intention of fitting the purpose. As we sell a variety of accessories for the Ukulele that have been reappropriated from previous tasks I though I would just take a moment this morning to write about some of the more popular ones. With a bit of luck, one of these may be just what you were looking for.
Remember though, if you have been looking everywhere for something you think is essential but is not currently in production, we would love to hear about it and hopefully with a bit of research and imagination we can help make that a reality for you.
THE HOLY GRAIL - A GOOD BANJO UKULELE GIGBAG
Many men and women have spent years wandering across desserts and dangerous mountain ranges in search of the ultimate, the unthinkable, the holy grail - A Banjo Ukulele gigbag to fit (Insert any and all vintage banjo uke company) Ukuleles.
I myself wandered this lonely road with our customers and always suggested that they look around for a Mandolin bag. Inevitably, the Mandolin bag they found would be too short or be unpadded and unreliable.
Enter our TGI Extreme Flatback Mandolin gigbag that has found a new lease of life as the UK's most popular Banjo Ukulele gigbag. With about 25-30mm of padding and some really comfortable double padded rucksack straps we really feel like we have found the best bag for the job. It is also possibly the only bag available to fit a Concert Banjo ukulele with ease and still be a safe option for a Soprano Banjolele.
http://www.southernukulelestore.co.uk/Product/1715/TGI-Mandolin-Ukulele-Banjo-Gigbag-20mm-padding-with-rucksack-straps
THE INTANGIBLE - A CLIP ON UKULELE MICROPHONE THAT WORKS!
If you record at home in a small space then you may not have the luxury of being able to set up a few microphone stands or even the space to store a decent condenser microphone between use.
About a year ago we started looking at the different options for close miccing a Ukulele onstage and trying to find one that didn't colour the sound of the instrument or produce feedback for absolutely no reason. This wasn't an easy task but eventually we found a Classical Guitar microphone made by prodipe that was perfect for the job.
The Prodipe GL21 is an excellent alternative choice for an instrument pickup that admittedly won't win any awards for attractiveness but outclasses any of the affordable retrofittable microphones we have found.
http://www.southernukulelestore.co.uk/Product/1508/Prodipe-GL21-Lanen-Condenser-Microphone-pickup-for-fretted-instruments
THE MODERN REINVENTION - A HIGH END UKULELE CAPO
This one is a bit of a cheat from all parties but back in 2010 it seemed to be impossible to find a good Ukulele Capo and so we set about trying capo's designed for other instruments and by far the best one was the Shubb C9B Banjo Ukulele Capo.. Fast forward a few years and amongst a crowded marketplace of Ukulele Capo's - The best selling Capo is the same Capo but in fancy redesigned packaging so that us muggles think it will only work on our Ukes!
The list goes on but sadly, this blog doesn't. Please remember that SUS are constantly looking for these products and we welcome any and all advice from customers that conduct similar experiments of their own.
http://www.southernukulelestore.co.uk/Product/0__dot__267/Shubb-C9b-Ukulele-Capo-Designed-specifically-for-Ukulele
Until next time!
Alex