Aldrine Guerrero and Joe Souza Workshops
This entry was posted on July 11, 2014 by adminuku.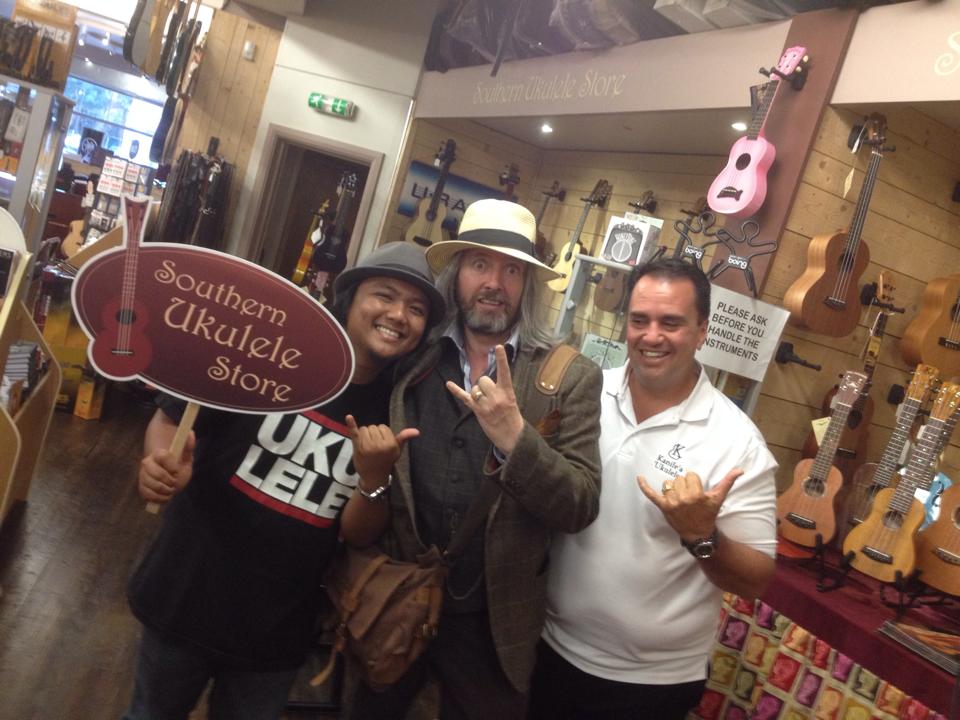 The 27th of June started off like any normal day if i'm honest. The shop needed its usual hoover, clean and polish before we spent the morning quality checking and dispatching ukuleles across the UK and indeed the world. It was a bloody hot day to boot. The usual Friday but with an added twist, we would be hosting two real genuine ukulele masters in the shop at 4pm!
Joe Souza is an excellent advert for Hawaiian hospitality and attitude. He walked in accompanied by assorted members of his warm and friendly family unfazed by the heat or even by the slight hiccup that his workshop partner Aldrine Guerrero was lost nearby in a taxi speeding through nearby Boscombe. Joe spent the next hour discussing with the audience all of the little quirks and eccentricities that go into designing and building a Kanile'a ukulele. Using some samples to illustrate the bracing system Kanile'a uses he was fantastic and although I wouldn't like to reveal some of the secrets and suspect that I wouldn't quite do them justice, I strongly suggest that you take the Kanile'a tour if you visit Hawaii someday. (I will be trying to put together a short video with some of this part of the workshop in the coming weeks.)
As the afternoon rolled on Joe took some questions from the audience and even answered my question on why Kanile'a use Aquila strings. I was very interested to find out that Kanile'a work hand in hand with Aquila to tinker the formula and consistency of the Aquila strings and in coming years it is more than likely the Aquila's fitted to a Kanile'a will be a completely unique and custom Aquila design. It was also quite neat to discover that Kanile'a started using Aquila at the beginning to stand out because all of the other Hawaiian companies preferred to use black or clear traditional looking strings and the Aquila's gave Kanile'a a little bit of a 'white string' ukulele angle to work with. Joe spoke very highly of the Daddario Nyltech strings as well as an alternative to standard Aquila's.
Aldrine and Joe collaborated briefly on an old Hawaiian song to conclude this portion of the workshop. The song was a slightly tongue in cheek song about a man coming home to find another man sat in his Rocking Chair. Rocking Chair is a thinly disguised veil for wife. Classic!
I am in the process of uploading this song now check back in a couple of days and it will be embedded in the video.
Now on to Aldrine's workshop. Aldrine and his lovely partner did eventually make it to the shop and told us a lovely tale about two helpful Bournemouth taxi drivers and the immediate recovery of a missing phone. Apparently he even got recognised at the train station in Bournemouth on his way to us.
Aldrine went through a finger exercise technique that could make grown men cry before spending a good forty minutes improving the rhythm playing of everyone involved. Its worth noting that three weeks after the workshop one of the gentleman involved came in to the shop today and had drastically improved with Aldrines brief tutorial. A lot of you will know that Aldrine Guerrero offers tutorials at Ukulele Underground and dozens of my regular customers swear by it so I strongly suggest you sign up.
After a short break Aldrine performed an astonishing solo set. I only wish my camera had been able to catch more of it than in the video below. If your new to Aldrine's work, you're missing out and need to youtube him immediately. Joe joined him for a few more songs but overall this was an incredible afternoon and evening of free entertainment and learning that we were both honoured and privileged to host.
We host in store and occasional external events throughout the year. In the past we have had the pleasure of seeing James Hill, Manitoba Hal, MrB Gentleman Rhymer and The Re-entrants.
We have workshops coming up with Phil Doleman on the 1st of August and Del Ray on the 20th September both in the afternoon and both are completely free providing you reserve a space. Keep an eye on the blog for more information.
Until next time.
Alex